Summer TV on DVD Roundup: From 'Alcatraz' and 'CSI' to 'Mad Men'
Just before the fall TV season starts, that's when the TV on DVD season begins. A bounty of titles have hit shelves over the last few months, and they range from the must-own to the not so much. Here's a quick look at select TV on DVD and Blu-Ray releases, including Alcatraz, The Firm, The Good Wife, Hawaii Five-0, Mad Men and the latest in the CSI and NCIS franchises.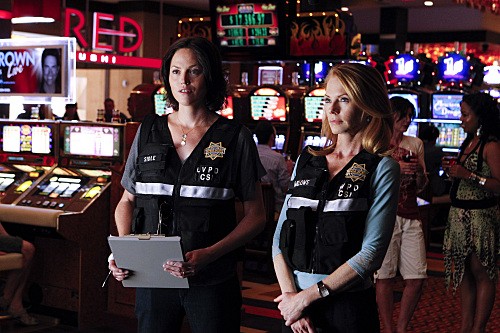 Alcatraz: The Complete Series [Blu-Ray] (Warner)
FOX's Alcatraz was reminiscent of the network's Fringe - it had a female heroine, working in law enforcement and played by a relatively unknown actress, working her way through plenty of mythology, and both were produced by J.J. Abrams. So why did Alcatraz get axed after just one season while Fringe became a cult hit? The stories of Alcatraz aren't as interesting, and the lead character of Rebecca Madsen leaves something to be desired. Lost alum Jorge Garcia is the bright spot as "Doc" Soto, and Sam Neill is good in his role as Emerson Hauser, though a tad underused. If you're into the Abrams-produced series, Alcatraz is worth a rent - but might not have a lot of replay value.
The Blu-Ray transfer of the show is likewise solid if not outstanding; fans of the show should feel confident in the quality of both the episodes' picture and sound. That's about all there is on this set, though; aside from the now-standard deleted scenes and gag reel, the only bonus feature is a featurette entitled "Island of Intrigue," which has interviews with not just the cast but folks who were former guards and inmates at the real Alcatraz. It's worth a look, especially if you're unfamiliar with the history of the famous prison, but not something with a lot of rewatch value. For that reason, this set's for fans only; everyone else should give it a rent first.
You can purchase your copy ​here​.
CSI: Crime Scene Investigation : The Eleventh Season (CBS DVD)
Season eleven of CSI is the last for Laurence Fishburne as Dr. Raymond Langston, but the show has perfected its formula by now, and it's not really about who's on the team anymore, except for maybe the always-dependable Marg Helgenberger, who herself left the show in season twelve. By season eleven, CSI knows what works and just keeps doing it, akin to NBC's late powerhouse Law & Order. Among the happenings this season: the show writes out Liz Vassey's Wendy Simms, Melinda Clarke returns again as Lady Heather, and William Petersen has a cameo appearance. And yes, this is the season that Justin Bieber guest-stars in.
When it comes to the DVD edition, the season has its strengths and weaknesses. The episodes look good, but not as great as they did in their initial HD broadcast on CBS; if you've seen any of the limited Blu-Ray releases for CSI, they look better than this. There are subtitles, but not on all the special features, and only English and Spanish audio tracks. Like previous season sets, there are a handful of brief featurettes (with some spoilers!) about key episodes, and the more general season-in-review piece. Season eleven only has two commentary tracks: one on "House of Hoarders" with George Eads among others and one on "A Kiss Before Frying" with Eric Szmanda and Dita Von Teese included.
Then there's the purely nitpicky stuff: the episode guide for the set is on the inside front cover - but you'll have to take the first disc out to read it. Thankfully, the information is also printed on each of the discs. Completists will want this set; for everyone else, it depends on if you enjoyed this particular season, because there's nothing here that makes this set a must-own.
You can purchase your copy here. (The eighth season of CSI: NY and tenth - and final - season of CSI: Miami are also now available.)
The Firm: The Complete Series (Entertainment One)
NBC's The Firm was one of those shows that had promise and ultimately didn't work. The show had two outstanding leads in Josh Lucas (Glory Road, Sweet Home Alabama) and Callum Keith Rennie (Battlestar Galactica), but the writing ultimately let them down as it quickly abandoned the strong legal drama in favor of overemphasizing its conspiracy thriller elements. So should you bother with the DVD set? Yes, if you're a fan of either actor; they turn in solid performances even when they don't always have the best material. The show also stars Molly Parker and Juliette Lewis, with small supporting parts for Shaun Majumder and Tricia Helfer.
There are more special features here than you'd expect for a single-season show like The Firm; unfortunately, most of those features only serve to demonstrate how the show could've been a lot better than it was. For the people who don't know the history, there's a feature (billed as a "story") where John Grisham explains how the story began as a book and then the Tom Cruise movie. A little bit misleading is the "Josh Lucas is Mitch McDeere" piece, which is basically an extended interview with Lucas giving his thoughts on the piece and picking up after Cruise - it never actually talks about how he got the part or what makes him right for the role. Cast and crew interviews, some scant behind the scenes footage, and a "sneak peek" promo piece round out the set. Lucas and Rennie fans should give it a view, but everyone else can skip The Firm.
You can pick up your copy ​here​.