'Suits' Star Patrick J. Adams Joins USA's 'Characters Unite Month'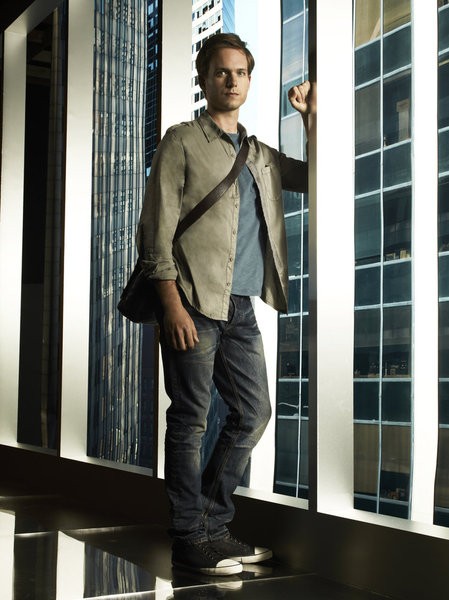 Suits star Patrick J. Adams is among the many USA Network faces making statements to address social issues and cultural divides for the network's second 'Characters Unite Month' in February.
The SAG Award nominee is adding his voice to help stop bullying, something he experienced as a teenager for his interest in theater.
"When you're the guy doing the school plays, that's not necessarily as cool as some of the other people," he said in an interview. "I got bullied a ton. I got pushed around a lot. [But] by the end of high school, the same guy who was beating me up in the ninth grade and causing me so much strife...was the guy who was asking me how to write a play."
Adams was nominated for a SAG Award for his performance as junior associate Mike Ross on the USA drama, which returns in summer 2012. He also won rave reviews for his performance in the play 9 Circles over the show's hiatus and has a part in HBO's new miniseries Luck.
He recently visited a St. Louis high school to speak to other teenagers about the issue, and has taped a 'Characters Unite' PSA. So has his co-star, Meghan Markle.
They join the likes of Covert Affairs lead Christopher Gorham, White Collar mainstays Tim DeKay, Matt Bomer and Willie Garson, and many others from USA's original series who have participated in the project.
Other highlights of 'Characters Unite Month' include special episodes of White Collar (Feb. 7) and Royal Pains (Feb. 22) that each include a storyline about tolerance, and the special NFL Characters Unite on Feb. 10. The latter sees NFL personalities "share their personal journeys of overcoming prejudice and discrimination and help to transform the life of a teen currently dealing with a similar situation."
Inspired by the network's 'Characters Welcome' tagline, the 'Characters Unite' campaign "is dedicated to supporting activities and messaging that combat prejudice and intolerance while promoting understanding and acceptance — on-air, online, and in communities across the country," according to its website.
The network also had a 'Characters Unite Month' in November.
For more information, to see an archive of USA Network star PSA's, and find out how you can get involved, visit the Characters Unite website. You can also view the spot Adams, Markle, Gorham and others appear in below.