'Suits' Star Meghan Markle Branches Out Into 'More Than Just Rachel'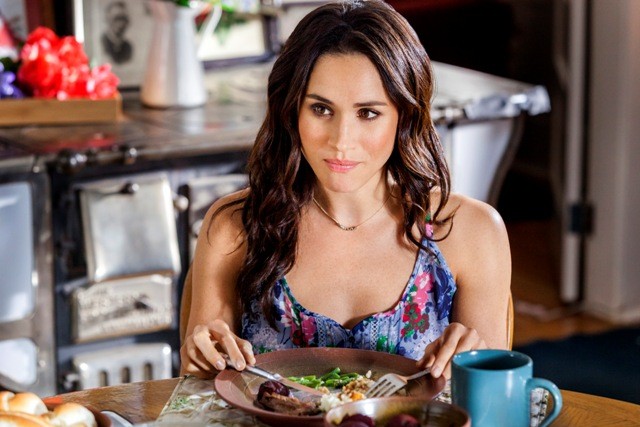 You love her as Rachel Zane on Suits, but Meghan Markle is a whole lot more than just one role. She's showing an entirely different side tomorrow in the Hallmark Channel original movie When Sparks Fly, plus she's got some exciting developments going on off-screen as well. We caught up with Meghan on Thursday to talk about the flick, whether she's experiencing newfound fame, and of course, what's going on with her day job.
Considering that there were just two months between the season three finale and season four premiere of Suits, where did Meghan even find the time to take on another project? Even she's sort of wondering that.
"It has been so busy!" she laughed. "We wrapped the first week of November, and then I did a film in London and Budapest for about a month in December, and then did this movie in February in Vancouver. I'm doing my best to do it all, and I'm having a blast."
In When Sparks Fly, Meghan plays Chicago journalist Amy Peterson, who goes back home and crosses paths with her ex-boyfriend Hank Lyons (Christopher Jacot) - because Hank is marrying Amy's best friend Sammie (Kristina Pesic). When Sammie ropes Amy into helping her plan their wedding, Amy and Hank are suddenly in each other's orbit and...well, you can guess the rest from the title.
It's definitely not the heavy drama you're used to seeing on Suits, and that chance to shift gears was what made the movie stand out for Meghan.
"I love playing Rachel; it's one of my favorite things, and I will alwas be grateful for [Suits creator] Aaron Korsh writing her the way she is and with that polish," she said. "For me, it was important in my break [from the show] to play something that's just so fun and light."
Though the finished movie will be just as much a surprise to her as it is to the audience. "I still haven't seen it!" she laughed. "I will be watching it in real time on Saturday when I'm live-tweeting it. I know that there's a scene where I'm eating ribs like it's my job...Things like that I think will make people laugh."
You can check out the trailer for When Sparks Fly below.
"It interests me to show that range," Meghan continued, further recommending the two episodes of Fringe's second season where she guest-starred as Amy Jessup. "I was playing a junior [FBI] agent and kicking down doors and had two months of gun training.
"I also have a film coming out called Anti-Social; it's about the underbelly of London...I want people to know I'm doing so much more than just Rachel."
Like launching her own website, The TIG (thetig.com and @_thetig on Twitter), which covers everything from the traditional fashion and beauty to compelling conversations with all kinds of people, including Glee's Dianna Agron and supermodel Jessica Stam.
"It's been my passion project," Meghan explained. "It's already getting so many accolades, and just really people recognizing that I do something outside of acting. I do all the writing on my site, and most of the photography as well. I love that people can go to it and find inspiration."
But of course, she's also thrilled to come back to the halls of Pearson Specter. While we wait for the next new episode of Suits in two weeks, we did get a little dish from Meghan on what's next.
"I will say that it is such a pivotal season for Rachel," she teased. "I just spent hours yesterday on set pouring my eyes out with tears. She's an emotional one.
"At a certain point, everything will come to a head," she continued. "I don't think anyone can balance it all. Rachel, as much as I often think that she has superpowers, I think this is really a season that humanizes her."
It's also a season that's drawing more attention to Meghan. Actress, writer, photographer, also a lovely person in general - she's a multi-talented woman who has so much more to offer the world than just one skill.
And in front of the camera, she's a lot more than just beautiful, tough paralegal turned aspiring lawyer Rachel Zane. Hopefully, with films like When Sparks Fly, people will start to take more notice of everything she is capable of.
Sometimes all it takes for that to happen is one big break, like being on one of the most talked-about shows on television. Does she feel like Suits has raised her profile?
"Oh, yeah. I think for all of us," Meghan reflected. "You go from auditioning and auditioning for years, and [then] you have a project that is just so good, and to be involved in it, yes, a lot more doors open. Now you're not just saying yes to everything...They're really things that I was excited to be a part of."
When Sparks Fly airs Saturday, June 28 at 9 PM ET/PT on Hallmark Channel (check your local listings for specific channel); Suits returns in two weeks, on Wednesday, July 9 at 9 PM ET/PT on USA. For more on Meghan, be sure to follow her on Twitter (@MeghanMarkle).