'Suits' Season 4 Preview: Beauty In The Breakdown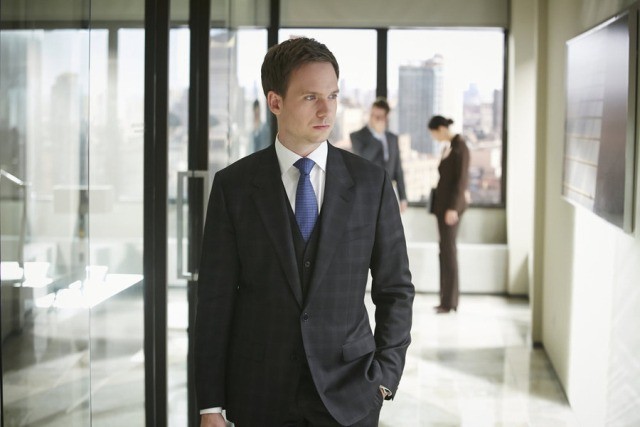 SPOILER ALERT - If you're not caught up through Season 3 of Suits, or don't want to know anything about the upcoming Season 4, stop reading now. This preview references plot points from the end of Season 3 and looks ahead to Season 4.
This Wednesday, it's graduation day for Mike Ross.
Suits has always been about the education of Mike (deserved SAG Award nominee and likely future multi-award winner Patrick J. Adams), who may not have gone to Harvard but has spent the past three seasons learning what it means to be a lawyer, as well as a mature adult. Yet in the season three finale just two months ago, Mike made the decision to step out on his own - accepting a flashy new job as an investment banker, and leaving Pearson Specter behind. So now there are plenty of questions: can Mike stand by himself, or will he fall? How will his former colleagues function without him? And what kind of show will Suits be, having split up its core dynamic?
This is a bold move. Even bolder than The Good Wife dividing its assets. And it's an absolutely perfect play.
If you can say one thing about Suits, it's that the series has been consistent in its character development, creating arcs that go where they need to go and not where TV tropes say they ought to. There's only so much growing up Mike can do, and so it came as little surprise last season that he started wanting to be an alpha dog. But in most cases - especially in cases where the other half is Harvey Specter (a still-flawless Gabriel Macht) - there can't be two alphas. The realistic play then became for Mike to have an opportunity outside the partnership, and to see how much the two characters had gained together, by forcing them to work against each other.
For Harvey and everyone else at Pearson Specter, that's essentially resetting things back to where they were at the start of the pilot episode - which turns out to be both for better and for worse. Three months have passed since the third season ended, and Harvey finds himself representing a hotshot client (played by Lie To Me and Scandal star Brendan Hines) with a taste for blood that our resident closer can appreciate. Mike, always having been the more compassionate of the two, is working with a struggling businessman (Michael Gross). Two different approaches, two different clients, and two opposite ends of the spectrum. The conflict is obvious - and because this is Suits, it's not a BS conflict that resolves itself in 42 minutes.
As if that's not enough, each workplace has its own separate issue to deal with outside of the impending battle royale - a smart decision for a series that saw three name changes at its law firm in three seasons. But wisely, these developments are woven in around the main attraction of watching the two main characters - and two outstanding actors - square off against each other. Every scene between them has a different energy now, but you still can't look away.
Granted, not everything in the season premiere works. Rachel (Meghan Markle) has taken Mike's place as Harvey's number two, but probably because she's not a fully developed character on her own, she doesn't click well with him. When they interact, he easily overpowers her. It's actually more entertaining to watch Louis (Rick Hoffman) and his associate than to follow Rachel and Harvey.
Then there are romantic issues that feels inserted purely for the sexual and/or dramatic appeal, such as a throwaway scene involving Harvey's latest conquest, and a last-minute Rachel revelation that has only one apparent use - to throw yet another wrench between her and Mike. Their relationship does not always need to be a major subplot in the series. But romance has never been Suits' strong point, anyway.
Even with a few false notes, Suits still hits home a good ninety-eight percent of the time. It still has the best writing on television, never pulling its punches, unafraid to dig deeper into its characters every season. At a time when many shows would start coasting, this one said "Let's take things even farther." And if the rest of the season is half as good as Wednesday's season premiere, it will have been a risk absolutely worth taking. Get ready for another heck of a ride.
Season 4 of Suits begins this Wednesday, June 11 at 9 PM ET/PT; stay tuned each week for our weekly recap/reviews of each episode, and tune in tomorrow for more dish from our interview with Rick Hoffman!
(c)2014 Brittany Frederick. Appears at Starpulse with permission. All rights reserved. No reproduction permitted. Visit my official website and follow me on Twitter at @tvbrittanyf.