'Suits' Season 2.5: Why It's Still The Best Show on Television (Editorial)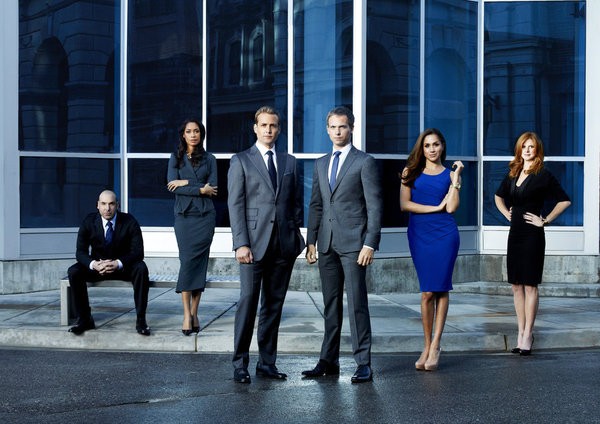 With its return, USA's Suits remains the best series on television - and one of the best ever.
There are a lot of great TV series on the airwaves today: FX's Justified, AMC's Breaking Bad, HBO's The Newsroom, just to name a few. Scripted television now is better than it's been in years if not decades. This is not to take away from the success of many other wonderful shows. Yet Suits is as close to a perfect TV series as one can possibly get. It's a series that works in nearly every aspect. Shows like Suits are why I became a TV journalist: because not only is it great entertainment, but its effects reach beyond that. This is a series that exemplifies all the things that are wonderful about television.
To start at the most basic level, it's simply an outstanding TV series. When the audience sits down for that hour every Thursday night, they know that it's going to be worth it. The show has found the perfect balance every series strives for - the one between rewarding all the viewers who tune in faithfully every week with ongoing storylines, but also being that program you can still enjoy if you're just catching a random rerun. You don't feel like you have to have seen every episode to get it (though once you get started, you'll want to watch every episode). What's more, while everyone has their favorite - I'm a Harvey Specter girl, myself - all the characters are likeable. Yes, even Louis Litt. You might want him to get fired, but you'd miss him if he was gone. There's no weak link in Pearson/Hardman's staff. And it's just fun to watch everything they do.
Which brings us to the actors. Suits fans, try to imagine another Harvey, Mike, Rachel, Donna, Jessica or Louis. You can't, can you? These roles are perfectly cast. It starts at the top with Gabriel Macht - how this man has not won a major acting award yet I don't know, because I watch him every week and I'm blown away by what I see. There are a lot of stellar actors on TV, but he's something truly special. Patrick J. Adams is working like he's been acting for years. He certainly doesn't come off like somebody in his first TV starring role. It's easy to see why Mike is hung up on Rachel when you're watching Meghan Markle. Sarah Rafferty is awesome - no other word really fits to describe how she steals half the show. I've seen Gina Torres in a lot of roles, but apologies to Firefly, Suits might be her best performance yet. And Rick Hoffman - it's easy to be an antagonist, but it's really hard to be one that also contributes to the enjoyment of the show.
None of these people are household names, but they all deserve to be. These are actors so good that on Thursdays, as much as we love what they do, we don't see them: we see the people they're supposed to be. That's an accomplishment when one actor achieves that - let alone a half-dozen of them at that level.