'Suits' Season 2.5: The Cast Speaks Out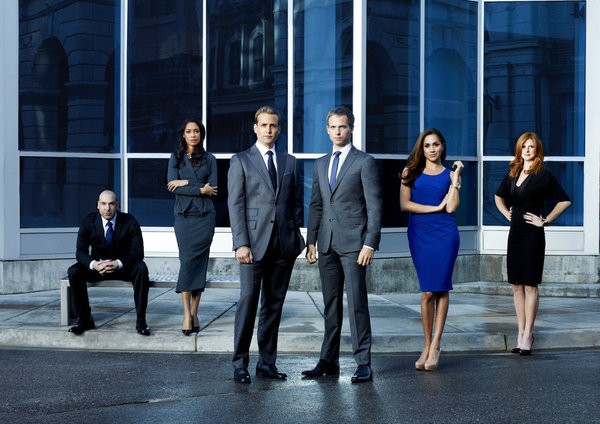 Audiences are just days from the return of USA's hit series Suits, and the actors are just as excited as the fans. At Monday night's 'An Evening with Suits' event at the Paley Center for Media in Los Angeles, BFTV caught up with the cast to ask them what they love most about the show - and what they've enjoyed about the remaining six episodes of season two.
For Rick Hoffman, who plays everyone's favorite semi-antagonist Louis Litt, the joy of the role comes from the continued growth of his character. "I think the longer you get to go on a show, the more time you have to let a character evolve, and I think that's the key," he said. "It's so much fun to play a human being, whether or whether or not he's a douche in the firm. You're going to end up finding something human about him if it lasts."
But even as he fleshes out Louis, is it still fun for him to play those moments where he's a thorn in everyone's side? "Absolutely," he continued, though he also added that "I'm so much more comfortable playing the serious stuff."
As far as what fans can look forward to in the rest of the season, Hoffman revealed that "There's a bunch of moments that I experienced with Sarah [Rafferty]'s character [Donna], with Meghan [Markle]'s character [Rachel], even with Harvey. We have a couple of new characters that I had a lot of fun working with, one being [played by] Amanda Schull, who's going to be coming on these last six episodes."
"I'm pretty spoiled, to be honest with you," he added. "This second season has been fantastic for him. It's a dream job."
"I'm pretty excited to see what's happening with Louis. That's always fun," said Sarah Rafferty, the woman behind intrepid assistant Donna Paulsen. Who's her favorite character other than her own? "All of them."
As far as why she loves the show, she explained, "I really love all these characters and feel like I really care about them. I'm really intrigued by how they interact with each other under the circumstances that they're put under. I feel like I really care about these people."
Another plus for her is the show's wonderful writing. "It's challenging, but the delight about it is that there's the opportunity to play various things," she said. "I keep going back to the characters that Aaron [Korsh] has created and how multi-dimensional they are. They're real people. They're funny, they're emotional, they get in fights, they love each other, everything. It's rich. It's not just one thing. We have the opportunity to play so many things."
But what tops Sarah's list of perks on what she called the best job she's ever had? "Getting to work with these actors," she added. "That's the best part of my work."