'Suits' Season 2.5: Sarah Rafferty Previews What's Next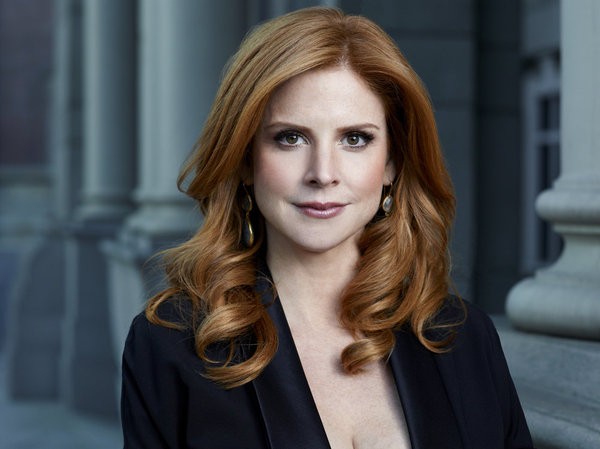 When you want to know something in the office, you go to the assistants - and when you want to know something at Pearson Hardman, you ask Donna Paulsen. The fabulous Sarah Rafferty, who plays Donna on USA's hit series Suits, shared a little dish with me about what's coming up in the remaining half-dozen episodes of the second season - and if we're ever going to learn about Donna's love life.
(SPOILER ALERT - This interview contains some details about the next six episodes of Suits' second season.)
"It's exciting because you sort of have the opportunity to enjoy two premieres," said Sarah of the show's split-season schedule, and she revealed that there's plenty of excitement ahead for numerous characters at Pearson Hardman following the explosive midseason finale back in August.
"I had such funny stuff to do with Louis," she explained. "Louis has gone through a process to kind of deal with the fact that he voted for Hardman [to be managing partner]. Donna gets to have her usual fun with that."
In fact, it's Louis's character that provides some of Sarah's favorite moments in the remainder of the season. "I can tease about something I'm really excited to watch, which is, Sheila, the character Rachael Harris played, she's coming back," she continued. "All I can say is that duo, I'm going to be rewinding a lot. That's really fun."
But it's not just Louis who will be seeing a familiar face. "I got to work with Abigail Spencer," said Sarah, referring to the actress who played Harvey Specter's old flame Dana Scott in the season one episode 'Play the Man.' "We get to learn more about Harvey's personal life. Digging into Harvey's personal life, of course, is fun for Donna."
The midseason premiere also includes an appearance by another of Harvey's love interests, Zoe Lawford, played by Gabriel Macht's real-life spouse, Jacinda Barrett. Meanwhile, Mike is still mixed up with Tess (guest star Elisabeth Hower). All these developments for the men of Suits just beg the question: when are we going to see Donna get a love interest? She's certainly too awesome to stay single forever, and according to Sarah, that topic might be on the table sooner rather than later.
"I think pretty soon they're going to have the opportunity to dig into Donna's personal life. I think you'll have some stuff to look forward to," she revealed. Who would she want to see dating Donna? "I'm going to hold out for Mark Ruffalo," she added with a laugh.
One upcoming guest star that Sarah is particularly thrilled about is The Wire veteran Wendell Pierce. "I'm such a huge fan of his, so I'm excited to see him," she said. "It's really cool for me as a fan to watch these actors I love come on. All the guest stars we've had have been amazing."
Donna has certainly captured the love of Suits fans the world over, who quote her witticisms and turn her expressions into captions and animated GIFs, and Sarah is equally as remarkable as her alter ego - smart, funny, and charming. So how close is she to Donna? "I think Donna's hair color is fake. Mine's real," she quipped, adding that "I think Donna's so different from me. I don't think I'm a lot like Donna. Donna is insanely confident and quick-witted and efficient. She has a big heart and I would hope that I can share that with her."
In addition to her work on the show, Sarah has excelled in other projects. Last fall she delivered a phenomenal performance in the South Coast Repertory production of Catherine Trieschmann's How The World Began. Whether it's on TV or on stage, she's always one to watch. What would be her perfect role? "The way that I look at it, in a lot of ways I'm playing a dream role," she said. "Donna's certainly a dream role for me becuase she has so many dimensions. The writers write her with so much depth.
"For me, when I think about dream role, I think about variety," she continued. "Having the opportunity to play a lot of different kinds of things as my career goes on. I think the dream would be to be like Maggie Smith - having played so many interesting roles." Sarah's certainly holding the audience's interest as Donna continues to be one of TV's can't-miss characters.
For more on Sarah Rafferty, check out my in-depth feature and interview from August. Suits returns tonight at 10 PM ET/PT on USA. Stay tuned for a recap and review of "Blind-Sided" after it airs!
For more from Brittany Frederick, visit my official website and follow me on Twitter (@tvbrittanyf).
(c)2013 Brittany Frederick. Appears at Starpulse with permission. All rights reserved. No reproduction permitted.