'Suits' Season 2 Premiere Advance Review: Does It Still Succeed?
Tomorrow, last summer's best new series is finally back. Is the Suits season premiere worth the wait? SPOILER ALERT!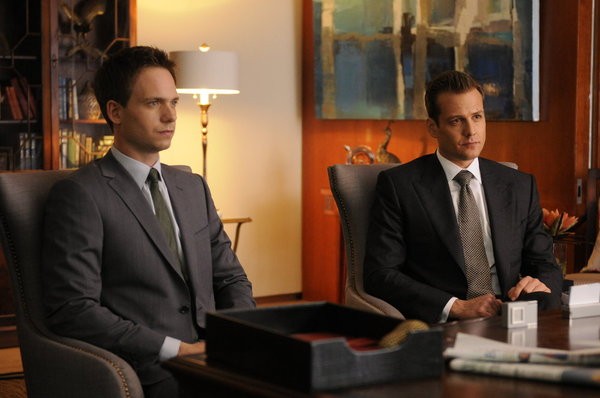 If you didn't guess from the title ("She Knows"), the premiere does address that controversial cliffhanger from the end of the first season. What's important is how that happens: the show doesn't look for an easy out, and it doesn't undermine the series' central concept, either. The resolution is as perfect as it could have possibly been played.
Looking forward, the episode leaves me confident that what made the first season of Suits a success will continue into its sophomore year. Most importantly, we continue to see the characters of Harvey and Mike develop, as they leave behind the "origin story" for the second chapter of their journeys. By the end of the episode, you see both characters continue to be affected by each other, and have an idea of where they're each headed. The rich development that was at the core of season one is still here. This is a season premiere that says, "Yes, we have a clear plan for the future."
It's helped once again by top-notch performances by every member of the ensemble cast. They are, of course, led by Gabriel Macht and Patrick J. Adams, who continue to be both compelling individually and great together. There's the award-worthy Macht, whose Harvey is still arrogant and flippant, yet retains his depth and has a moment of real vulnerability.
For Adams' part, we learn a lot more about Mike's past in scenes that would normally come across as heavy-handed monologues, but because he's such an expressive and earnest actor, they don't feel like chunks of backstory. He draws us into Mike's story and then it doesn't much matter how it's being told.
And aside from the two leads, this season feels like much more of an ensemble show. Gina Torres is so watchable as Jessica Pearson, and it's pretty hard to imagine Harvey without Sarah Rafferty's Donna around. There's less to do for Meghan Markle and Rick Hoffman in this episode, but for Mike/Rachel fans, the Mike/Rachel/Jenny triangle is something else that is not ignored. As much as I enjoy Macht and Adams at the core of the show, playing with the ensemble more helps to enrich the world of Pearson Hardman just that much more.
I liken Suits to another fantastic drama series, FX's Justified. After Justified delivered a near-perfect first season, I wondered, "How can it possibly do better than that?" and because of that, I had terribly high expectations for the second season (which it promptly shattered). Having enjoyed Suits so much last summer, I wanted to fall in love with it all over again this season. So far, it's as if the series never left in the first place. This is still the must-watch show of the summer.
Suits premieres tomorrow at 10 PM ET/PT on USA.
For more from Brittany Frederick, visit my Starpulse writer page and follow me on Twitter (@tvbrittanyf).
(c)2012 Brittany Frederick/Digital Airwaves. Appears at Starpulse with permission. All rights reserved. No reproduction permitted.