'Suits' Recap: 'Normandy'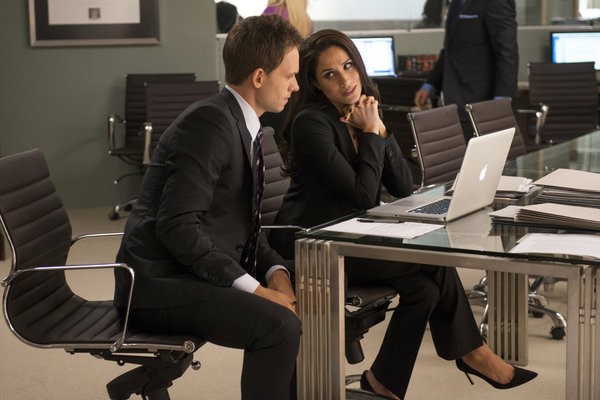 In "Normandy," Suits continues its blast from the past, bringing back Dana "Scottie" Scott, Harvey Specter's former opponent and more-than-one-time flame. She's still got her eye on Harvey, but she's also still trying to beat him - and this time, she's brought reinforcements.
"We need to talk about resources," Harvey tells Jessica, wanting her to give him more resources to handle their 45 cases against Folsom Foods while she's dealing with a pile of bills. Seems the firm is in worse financial shape than he believed. Harvey's eyebrow ends up in the middle of his forehead. "We've got seven cases in seven cities over the next two months - so what are you proposing I do?" he asks her.
He then goes downstairs to the library, fetches Mike, and tells him that they're consolidating. Jessica approved anything he wanted for one case. They plot how best to orchestrate their attack. Then Donna strides into Harvey's office and tells him "there's been a slight complication" with his planned client meeting.
That complication would be Dana Scott (guest star Abigail Spencer, last seen in season one's "Play the Man"), whose planned marriage never happened. She tells him she's already taken some of his clients and she's out for ten more. Oh, and there might have been a slight about his age in there, too. First Allison Holt, now this - the vultures are definitely circling around Pearson Hardman.
"You've got to be kidding me," Jessica responds when Harvey tells her about it. Harvey suggests that they join forces with Dana's firm, which has much deeper pockets than they do. Especially since they're based in London, he figures they'll just be signing the checks. "You'd better make sure that you don't lose with her," his boss advises.
Mike walks into Katrina Bennett (guest star Amanda Schull) and finds out she's assigned to the same case he's the lead on. They don't get along that well, so Mike tells Harvey that he doesn't want to work with her. Harvey retorts that he doesn't want to work with Dana either, and that she's going to Bakersfield with him.
At the moment, she's being interrogated by Donna. "Just don't screw with him," Donna informs her, just before Harvey walks in. Dana knows exactly what Harvey is going to propose and is prepared for it. He tells her that they're not going to Bakersfield - they're going to Parkville, "the one division Hardman will never think to find us." She's unsurprised that he wants to do things the hard way, and tells him that if they want to overwhelm Hardman, they've got to go to all 45 cities...which is exactly what Harvey wanted her to say all along.
Mike and Katrina fight over how she got to Pearson Hardman. "He was hiring me to protect you," she told him, but he throws it back in her face, saying she took the job anyway. She responds that she had no choice as she'd already given notice at the DA's Office. "Stop taking everything so personally and get over it," she says. Snap.