'Suits' Recap: 'Moot Point'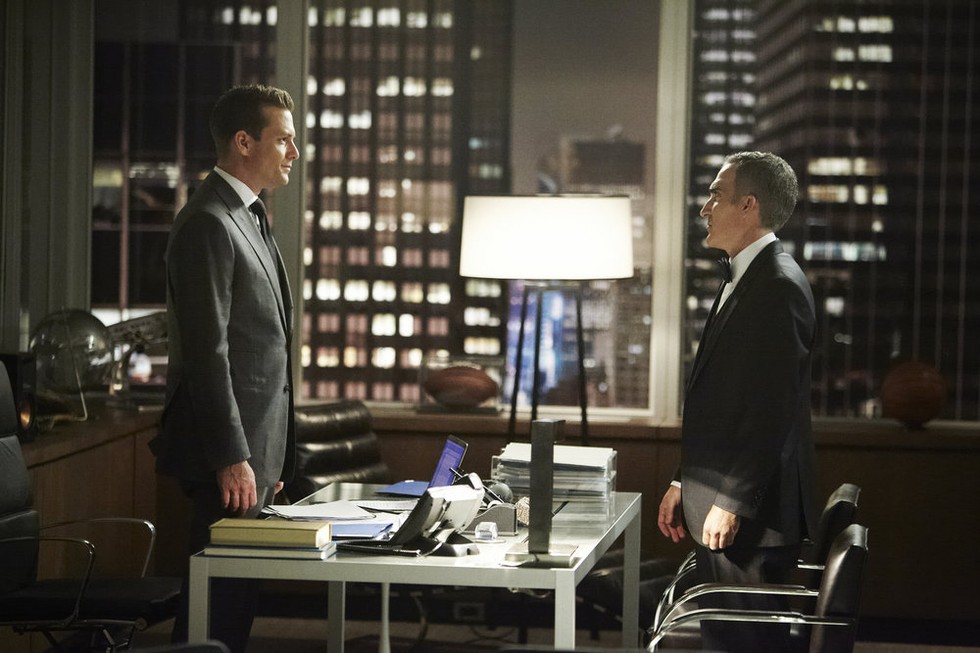 After putting our hearts in our throats with its last episode, Suits switches gears as it referees battles both inside and outside of Pearson Specter.
Having narrowly escaped the complete destruction of his life last week, Mike is feeling exceedingly grateful toward Rachel and Harvey, and wants to make a gesture to thank his boss. Donna tells Mike that there's "one thing Harvey has been wanting to get for years and he hasn't been able to." What is that? Victory, of course. Mike uncovers a law school rival that's been ducking Harvey for the past ten years, and sets up a rematch.
Speaking of Harvey's law school acquaintances, Scottie is officially introduced to the firm as its newest senior partner at a morning meeting, and immediately steps up to take the lead on a transaction for one of Louis's clients. Now Louis has someone other than Harvey to feud with. "As far as I'm concerned, Dana Scott is dead to me," he gripes to Jessica, who points out that Louis seems to make enemies of his colleagues and could set a different precedent here. Instead, Louis and Scottie mutually pick a fight with each other - he's territorial and she wants to establish herself as more than "the partner sleeping with Harvey Specter." And she's willing to put her boyfriend in the middle to do it.
Harvey's nemesis A. Elliot Stemple (Patrick Fischler, Mob City) refers to him as a "skirt-chasing degenerate" just before discovering that he's about to face both Harvey and Mike in court. This makes him invent an excuse about an ill niece in a panicked attempt to get off the case, but Mike points out that said family member doesn't exist (which nets Stemple a hefty fine for lying to the judge). Stemple visits Pearson Specter after hours to plead with Mike not to take away the one "little piece of glory" he has - having beaten Harvey three times in moot court at Harvard. "I hate my wife, my children are anchors, and the only reason I stay at that firm is to pay for them to leave me alone," he quips, and whether you believe him or not, that's hilarious.
An enraged Louis - egged on by an email that Scottie sent from Harvey's computer - enlists the help of his sidekick Katrina Bennett (a returning Amanda Schull). It says something about Scottie's character that even the conniving Katrina seems irritated by how she plays the game.
The not-so-mild-mannered Stemple starts pulling out the knives in a deposition, bringing up not just his previous victories against Harvey, but the lawsuit that Ava Hessington filed against the firm. He also taunts Harvey that "my independent analyst will come up with anything that I want him to say." Unfortunately for our heroes, that incriminating sentence wasn't picked up by the camcorder taping the deposition. But Stemple doesn't know that, so he's twitchy when Mike and Harvey take that statement to the judge, who takes them at their word given the lawyer's previous history of lying to him.