'Suits' Recap: 'Blind-Sided' (Midseason Premiere)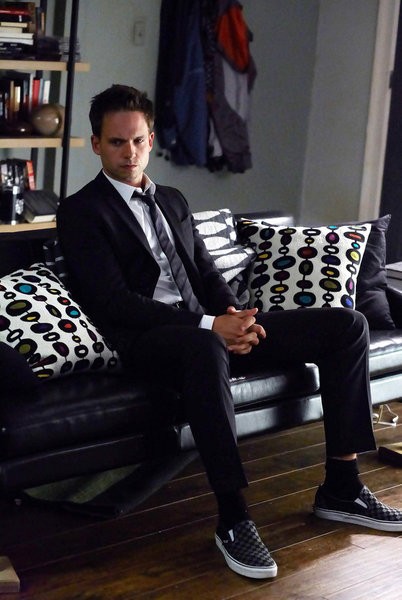 With Thursday's midseason premiere, USA's Suits re-established why it is the best show on television - in fact, required viewing for anyone who loves TV.
Picking up a week after the midseason finale, "Blind-Sided" starts with Mike (Patrick J. Adams) still on emotional tilt, still getting high and still mixed up with his very much married old friend Tess (guest star Elisabeth Hower), the night before he's supposed to go back to work at Pearson Hardman.
The next morning, Harvey (Gabriel Macht) watches Daniel Hardman's name being scraped off the former managing partner's office wall, before Donna (Sarah Rafferty) tells him that he's got a message from Zoe Lawford. "I wanted to be in a position of power when I toyed with you," Donna says, determined to know why Harvey called Zoe in the first place. She eventually gets him to admit that Zoe is the person he wants to celebrate Hardman's defeat with.
Someone Harvey isn't excited about seeing is Louis (Rick Hoffman), who's still very much in the doghouse with his colleagues, much to his annoyance.
Elsewhere in the office, Rachel (Meghan Markle) nearly snaps Mike's head off when they start talking about her finding Tess in his apartment, and Rachel is surprised when Mike admits to her that Tess is married. Harvey interrupts their debacle by saying there's a crisis that needs attention. That crisis surrounds a young man named Liam Carson, who hit Albert Chung with his car driving home from a party, and doesn't know what happened to the victim because he left the scene of the accident. It's a hit-and-run.
Liam insists that he wasn't drunk at the time of the accident, but Mike doesn't believe him, and his badgering of Liam makes Harvey think Mike needs to chill. Harvey pulls Mike aside and tells him that that as his parents were killed by a drunk driver and his grandmother just died, he might need to find something else to do, but Mike refuses to step away from the case.