'Suits' Recap: 'Asterisk' (2.09)
Can you believe that ​Suits​ is heading for its summer finale already? With a partner battle brewing, the show pushes everything to a head with a few little gems for the fans along the way and one heartbreaking ending.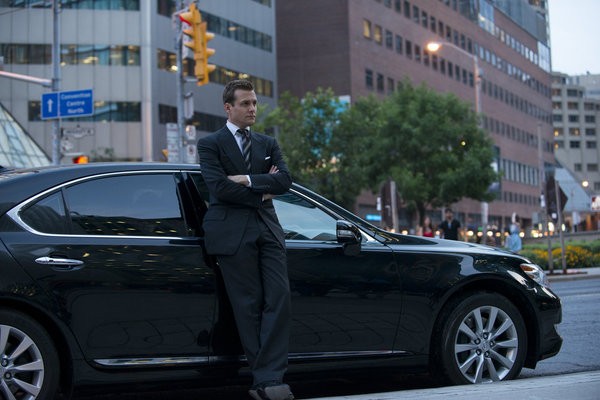 Harvey is still psuedo-stalking Donna, this time allegedly to bring her a bonus check that she doesn't want. She's still angry with him, especially when he gives her the mother of all puppy dog faces. "I am not in love with you, Harvey. I love you like a brother or a cousin," she tells him. "I told her I can't be me without you," he retorts, which A) is a lie and B) would be an awesome line in a romantic comedy. An amused Donna agrees to come back under two conditions, the first of which is a replacement for the bonus check she just ripped up, and the second which isn't yet revealed to the audience.
At Pearson Hardman, all the buzz is about the impending vote for the managing partner position. The race is dead even, at least until Hardman calls Louis into his office. Hardman intends to name Louis senior partner, giving him exactly what he's always pined for, but he also expects Louis to side with him when the vote is taken.
Donna makes her triumphant return to the firm and promptly fires her replacement, which is revealed as the second condition of her comeback. When Louis makes an attempt to apologize to her for how he treated her ​during the mock trial, Donna realizes from his wardrobe what's happened, and she tells Jessica, who realizes that Hardman has bought Louis' deciding vote and calls Hardman out on it. Not that Hardman cares.
Harvey and Mike are in court, where he's arguing on behalf of a TV personality (that's ​Whose Line Is It Anyway?​ alum Jeff B. Davis) in trouble for libel. The judge orders that the case will proceed to trial, after which the opposing counsel tells Harvey that to settle, they want "an on-air complete retraction." When they get back, Mike's grandmother is at the office; seems she brought him lunch, because she wanted to meet the people he works with. To call that "awkward" is putting it mildly.
Jessica offers Hardman the opportunity to leave the firm with a few senior partners and start his own shop, but he balks. When that doesn't work, she orders Harvey to sway Louis, causing one of the best Harvey Specter facial expressions ever seen on the show. With that unwanted assignment, Harvey walks into Louis' office  just as Louis is talking with his parents (played by Rick Hoffman's real parents), who rib him about his hair and his lack of a spouse. Thankfully, Harvey doesn't hear the part where Louis's mom wants to chat with him, saying she wants to meet her son's "best friend."
Harvey persuades Louis to go out to dinner with him, and there he tells him what he was ​really looking into five years ago​ . Louis doesn't take the information well, and angrily tells Harvey that he can't trust either of them before leaving.
Mike ribs Harvey about that when they meet later, even as Harvey teases Mike about taking Rachel with him on his hunt for a new residence for his grandmother. They both try to convince the sportscaster to make the required on-air apology, but the guy balks. Their conversation, however, convinces Harvey that the sportscaster's claims might actually have merit.
Following that, he has another conversation with Louis, who isn't thrilled that Jessica didn't come asking for his vote herself. He shuts Harvey down a second time. Elsewhere in the building, Rachel has her LSAT results and Mike has to open the envelope for her. It contains good news: she scored a 172, which is "awesome" according to our favorite fake lawyer. Perhaps a change of position is in her future?
The next day, Mike is convinced he's found the sportscaster's source for the report he's being sued over: an unremarkable catcher the athlete in question played a mere ten games with a few years ago. Mike then confronts the plaintiff, saying that if he doesn't drop the suit and retire, the source will go public and "the whole world knows who you are."