'Suits' Recap And Review: 'We're Done' - Mike's Back, But He And Rachel Aren't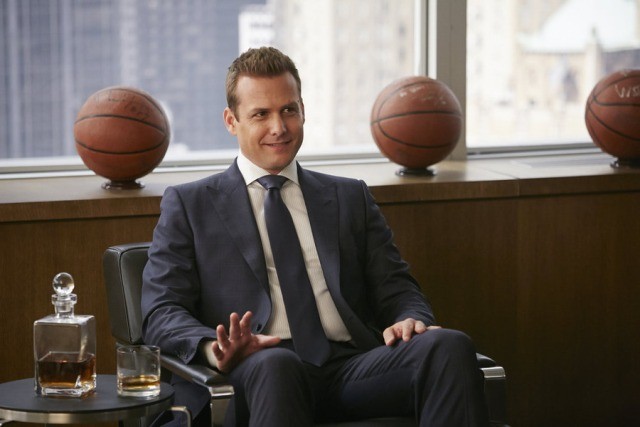 After taking a break for the madness that is San Diego Comic-Con, we're back with Suits, and there's just as much chaos going on over here. With Mike getting fired from Sidwell Investment Group, Rachel having made out with Logan, and Forstman hanging around like that creepy dude at the end of the street, nothing is easy for anyone even though the whole takeover battle is now over and done with.
Mike comes home and wallows in his guilt, telling Rachel, "You don't even know what I've done." That makes her hesitate, since she could say the same thing to him, but she does her best to comfort him. Elsewhere, Katrina (Amanda Schull) tries to convince Louis that breaking the law to win the war was for the greater good.
And Cahill (Neal McDonough) is all smiles until Harvey crashes his party with incriminating documentation of all his misdeeds. "You have ten days to dispute my accounting of events and when they're done, I expect to never see you again," he says, and offers to fight him while he's at it, which we would totally watch. Let us not forget how Harvey beat the snot out of Stephen Huntley in that bathroom.
Forstman continues to stalk Mike, offering him a one million dollar signing bonus to accept a job with his company. While Mike eyes up that very large check, Donna breaks the news of Mike's firing to Harvey, so despite the fact that he essentially sold Mike out to win the takeover battle, Harvey agrees to reschedule a meeting to pay his former assocate a visit. He can easily deduce that Forstman got Mike axed, and asks him if he'd come back to Pearson Specter, because he doesn't want to see Mike working for evil. Mike, however, doesn't see himself as having many options. If you haven't noticed over the course of this season, he tends to be a little panicky.
Enter another familiar face: Stan Jacobson (John Billingsley), from season one's "The Shelf Life," whom Mike has phoned for advice as to how to reboot his life for a second time. Stan tells him it's not the money that's important, but the people you spend your time with. While that's going on, Harvey pays a visit to Mike's former boss, handing Jonathan some not-yet-public information in exchange for forgiving Mike. "Where I come from, the way you really repay someone is by giving him a second goddamn shot," Harvey insists, but Jonathan merely suggests Harvey goes and takes Mike with him.
Someone else who's in a bad mood is Jeff Malone (D.B. Woodside), who's not happy that Jessica had Louis check his work - leading to Louis making the discovery that saved the day. He sort of breaks up with her, then Harvey further irritates Jessica by asking her to re-hire Mike. Jessica doesn't want to hear it, saying that she's never slept better since Mike departed the firm and took his faux-lawyer baggage with him. And speaking of Mike, he's making Rachel cry because his awesome declaration of love reminds her that she made out with Logan. Once that comes out, he angrily bails on her, and it's not like we can blame him.