'Suits' Recap And Review: 'Two In The Knees' - Mike's Past Haunts Everyone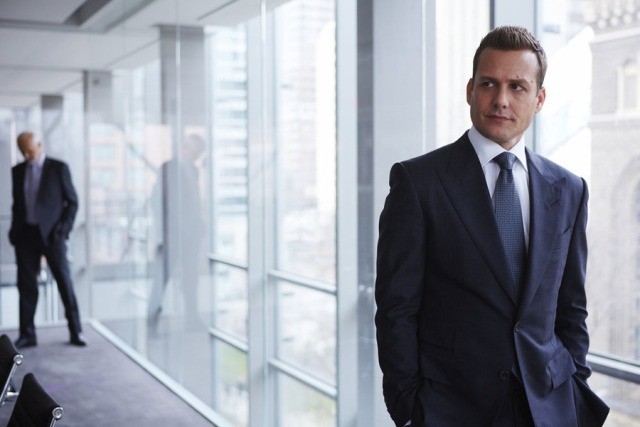 Business is now definitely personal on Suits. After setting up the prizefight between Harvey Specter and Mike Ross, and then establishing the battle over Rachel Zane between Mike and her ex-boyfriend Logan Sanders, the third episode of season four smashes both those things together and creates a messy battleground that's both painful and jaw-dropping to watch.
It's still a rough time to be Rachel, who's having a hard time balancing law school, the uber-case, and Mike, who wants more attention from her, as well as some personal information. He asks her if she loved Logan, and who ended their affair. She replies that she did, but that she was also the one to call it off. "Do you have any other burning questions, or can I go to sleep?" she asks, and really no one can blame her.
Mike then goes to see Donna and get more office gossip; apparently Harvey found the master tapes to his father's solo album, and is trying to acquire them. But that little tidbit is just a way for her to segue into how she's worried that the case will drive a permanent wedge between Harvey and Mike. Mike doesn't share her concern, probably because he's more preoccupied with Logan.
Speaking of Logan, he wants a word with Rachel when she gets back to the office. "I'm going to have to do some calculated things," he warns, "and I needed to know you're okay with that." She tells him to stop worrying about her. Satisfied with that response, Logan storms into Harvey's office, upset about the events of last week's episode. He blames the fact that he hasn't yet acquired Gillis Industries on Harvey's friendship with Mike. Truly, this is the defintion of throwing a temper tantrum. "You want below the belt?" Harvey retorts. "I'll give you below the belt."
That's not the only drama around Pearson Specter. Louis still has issues with Jeff Malone (D.B. Woodside), starting with the fact that Malone is in his old office. Despite himself, though, he tries to apologize - way more than he needs to. "I really need to make this up to you, Jeff," he says, and so Jeff asks him how to get Jessica's help on his next case. Somehow, we don't think that's all he wants help with. Neither does Jessica, who, after meeting with Louis, calls Jeff on his scheming to no real avail. It's odd to see a woman as tough as Jessica Pearson being so brazenly manipulated.
What does "below the belt" actually mean? Harvey visits with Walter Gillis's bank, and tells him to stop giving Gillis's company its line of credit or all the firm's clients - all two billion dollas worth of them - will go to another bank. As he says that, though, Mike magically drops in and threatens them both with a grand jury.
This doesn't sit well with Logan, who suggests hiring a private investigator to dig into Mike. "That's just nuts," Harvey replies, adding that he's starting to realize this likely has something to do with Rachel. Logan's response is to threaten to take matters into his own hands, which drives Harvey to drink.