'Suits' Recap And Review: 'Gone' - Louis Makes The Big Sacrifice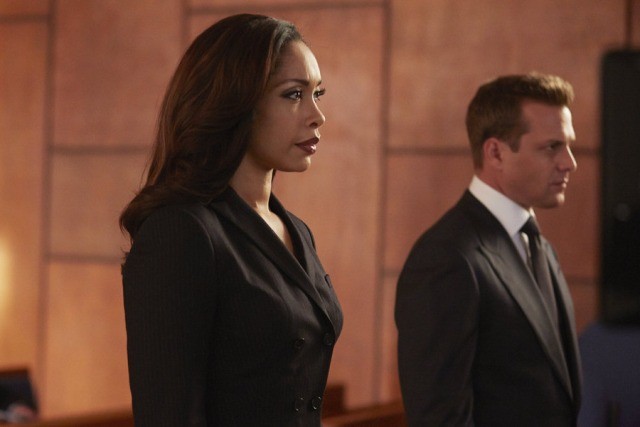 We're two episodes away from the Suits midseason break, but why not get to some drama now? It's a very bad time to be Louis Litt, since now the truth about his involuntarily misdeed is out. This week, while everyone else hates him and deals with the consequences, Louis makes a drastic decision that changes his life and the course of the firm. And as much as we love to hate Louis, we kind of love him for it. What's that big move? Well, read on to find out.
We open basically where we left off last week, with Jessica and Harvey confronting Louis over the deal he made with Satan - er, Charles Forstman. If looks could kill, Harvey would be eviscerating Louis right now. Then there's the icing on the really bad cake: "He made me take a million dollars out of the deal," the guilty one admits, causing Harvey to explode and Jessica to point out how this basically moves Pearson Specter exactly where Sean Cahill wants them. She kicks Louis out of her office to confer with Harvey: "The second this thing is over I'm going to fire his goddamn ass."
"What happened?" Donna demands to know, having cancelled her date to find out why everyone else is up in arms. Harvey's so ticked off, he even snaps at her - but she doesn't flinch, reminding him that A) he also once put the firm in jeopardy when he hired one Mike Ross, and B) Mike wouldn't be back on the team now if not for Louis.
Harvey does not want to talk about that, and instead wants to have a very late-night chat with Forstman, saying that if he doesn't let Louis off the hook for his forced embezzlement, "You're forcing me to turn you in for what you did twelve years ago." Forstman doesn't think he'll do that, since Harvey was also involved in whatever happened then, and declares that he's willing to take his chances.
The next morning, Donna attempts to console a still very dazed Louis in the Pearson Specter break room, kind of. Louis asks her if Harvey's planning on firing him, and Donna lies and says that to her knowledge, his job is safe. As Louis walks away with his head still hung, Jessica and Harvey are looking for Plan B in the file room. Mike strolls in with another of his brilliant ideas: start depositions on their malicious prosecution case, beginning with Eric Woodall (Zelkjo Ivanek). To dig up dirt on Woodall and Cahill, Jessica turns to Jeff Malone (D.B. Woodside), who's not really happy to be pulling skeletons out of the closet.
Mike jokingly calls Harvey's relationship with Cahill a "bromance," but stops laughing when Harvey warns him that Cahill's depositions are moving forward just as quickly as theirs are, beginning with Rachel. Naturally, he wants Mike to prepare his girlfriend for her deposition. As the boys are quipping, Donna tries to campaign on Louis's behalf with Jessica, but all she gets is the threat of being fired again. It's clear that Jessica really doesn't have a very great opinion of Louis right now, and feels an awful lot like she never quite looked at him that highly to begin with.
Woodall's deposition begins and ends with Harvey digging into the former U.S. Attorney's emails, which Jeff has somehow gotten his hands on. Jessica takes this as a victory, and tells her boyfriend that they're heading to court the next morning to get the whole affair tossed. While they're all smiles, Mike's faux-deposition of Rachel goes wrong in a hurry, dissolving into a shouting match that reveals that there are still problems in their relationship. Although honestly, if that makes her uncomfortable, she's really not going to like her deposition.