'Suits' Recap And Review: 'Breakfast, Lunch And Dinner' - Rachel Becomes A Problem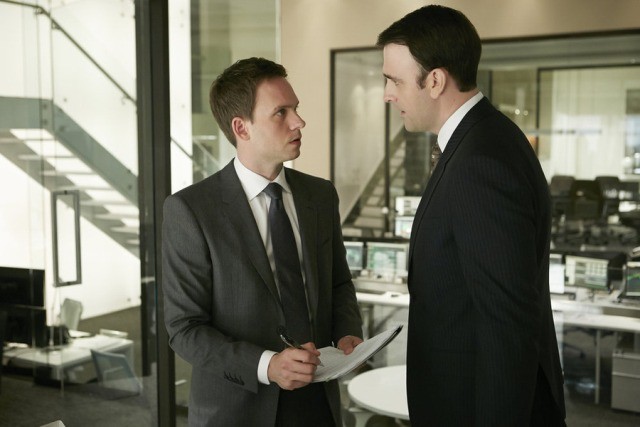 Suits returned last week with the battle of Mike Ross vs. Harvey Specter - but in actuality, it's not only that, but Mike vs. his not-so-idealistic new boss Jonathan Sidwell, Mike vs. his girlfriend's latest issue, and even a little of Mike vs. himself. You can't say this show ever skimps on the challenges it puts in front of its characters.
Speaking of Mike, he's sulking "about last night," meaning that this episode takes place almost immediately after the season premiere. He claims that he's okay with Rachel working with her ex-squeeze Logan Sanders, but he's doing it in that way that women say that we're fine when we're not fine. Mark our words: this is going to be a bone of contention between them at some point this season.
As we get to the firm, Louis is preparing his pitch to be the guy that takes on the SEC for Pearson Specter, complete with slides of hilarious Photoshopped graphics. Katrina interrupts him to say that Jessica wants to see him now - but Louis's hopes are dashed when Jessica tells him that she's hired Jeff Malone (D.B. Woodside) to do the job he so badly wants. It's true that Louis is not the most well-liked guy, but come on, you've got to feel for him in this moment. Not only is he pushed out, he's got to work with the guy that just took his place. Dejectedly, he throws his slides in the trash.
Rachel has called in Donna to discuss "the Logan situation," and Donna insists that Rachel must tell Harvey, because Harvey hates things being kept from him (as we've seen first-hand in past season!) and because Logan is already on his way into the office. Cue a flashback - as indicated by the color tone - to when Logan (Brendan Hines) and Rachel first got together, followed by her walking into Harvey's office to find her ex there early. (Hands up if you're still expecting to see Tim Roth behind Brendan Hines at any given moment.)
Logan's genuinely happy to see Rachel, until he deduces that she's going to tell Harvey about their affair, which he doesn't want her to do because he regrets the man he used to be. "I'm not that person anymore," he insists, and he doesn't want to give people cause to think he is. Rachel retorts that she's living with Logan's opposition...who's currently on the street trash-talking with Harvey, before serving him with a notice to appear. Harvey strides into his office to Rachel disclosing the affair, and Logan wanting to know why Harvey didn't tell him about Mike. Harvey does not care about either of these things and intends to "confuse the s--t out of everyone I can" in court.
After the judge tells Harvey to shut up twice (we like this judge already!), Mike successfully argues for a temporary restraining order not only barring the tender offer, but keeping Logan from purchasing any more stock in Gillis Industries. Logan pouts and insists on being included in the next meeting with Mike. Elsewhere, Katrina continues her reign as Louis's motivational speaker slash life coach, and tells him not to take Malone's presence lying down.
The next day, Jessica does not give a damn about Harvey's problem. She wants him to have lunch with Jeff "because you banged him," he quips, but can't say that again to her face. Harvey ducks this by scheduling someone else we don't know and don't care about in his place. Jeff doesn't know this, because he's fighting with Louis over an upcoming deposition, calling him "a monkey in some Italian suit." That deposition is going to be ugly.