'Suits' Recap: A New Fixer In Town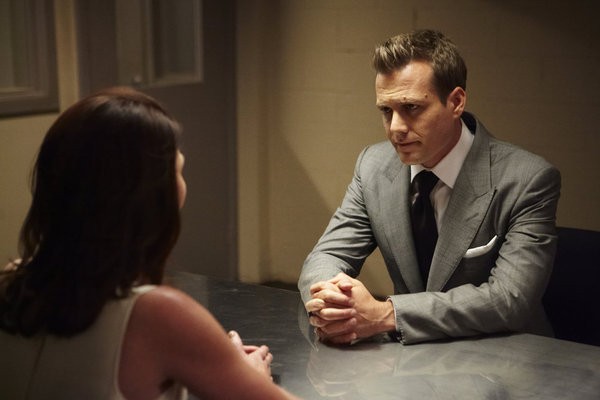 If you somehow thought things resolved themselves at the end of last week's Suits, you were wrong. This week, Cameron Dennis continues his meddling, while Pearson Darby is shaken up by the arrival of Stephen Huntley (Max Beesley, Hotel Babylon), the "British Harvey" from across the pond.
Things begin on a semi-lighter note, though, as Rachel has problems reaching high shelves and Louis doesn't like Mike stealing his bran bars (since, you know, he has a reason to be angry at Mike). After ranting a bit, he returns to his office and starts snapping at Harvey, who's there to get Louis's help at defusing the planned takeover of Hessington Oil. Harvey also suggests that Louis needs a "rebound associate," continuing the relationship metaphors. Elsewhere, when Rachel runs into Donna in the file room, we learn that those two ladies have made up following their spat in the previous episode.  All the connections we've come to know and appreciate appear to be falling back into place.
Ava tells Harvey that she's decided not to return to London, and goes on to offerhim a job as her new right-hand man. No sooner has he turned her down than Cameron rears his ugly head to have Ava arrested for "conspiracy to commit murder" regarding the deaths of six demonstrators who were protesting her foreign pipeline. This naturally makes Harvey flip out, because he realizes Cameron is A) reaching and B) still trying to stick it to him by any means necessary. He brings Mike to interrogate Ava about the deaths, and she's not happy to be prodded, nor to be locked up. She asks Harvey if he believes she did it, and he responds by saying that she's irrelevant.
Back at the firm, Louis's "rebound associate" might be Katrina Bennett (Amanda Schull), who wants in on the big case. After Louis dismisses her, Mike finds her in Harvey's office, trying to leave a folder on his desk. He puts her in his place, with a little help from Donna, who tells her that when Mike says he's speaking for Harvey, he really is speaking for Harvey. Not that she needed them, but Donna goes up another thousand points in the coolness category.
Mike's on a roll, suggesting that since Cameron double-crossed them with the deal in bad faith, Harvey should use Ava's bail hearing to double-cross Cameron. Our hero gives it his best shot, going through one heck of an argument which includes an accusation that Cameron leaked information to the guy now trying to take over Hessington OIl, and convinces the judge to reduce Ava's bail to a very manageable one dollar.
While this is going on, Stephen Huntley makes a slow-motion entrance and starts his tenure by commenting on Donna's backside. The two of them engage in some banter before Harvey rolls up, not happy to see his foreign counterpart. "I'm not here to hijack anything," Stephen insists, and doesn't win any brownie points with Harvey for commenting on Donna (although he does get Harvey to reveal he once went out with Elizabeth Hurley). In a terse and relatively brief meeting, Stephen gets the message to stay well clear of Harvey - though he probably won't take it to heart.