Sugababes' Amelle Berrabah Convicted Of Assault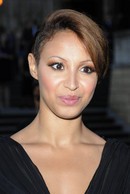 British pop star Amelle Berrabah has apologized to fans after she was convicted of assault for her part in a bar brawl.

The Sugababes singer lashed out at fellow club-goer Danielle Dodoo in the VIP area of Alto, a London hotspot owned by Berrabah's boyfriend Tom Benn. The City of Westminster Magistrates' Court heard on Friday how Berrabah left scratch marks on Dodoo's neck and threatened to bite off her nose, according to Britain's The Sun.

A judge told Berrabah she had inflicted "nasty, unpleasant" injuries, and found her guilty of assault. The 27 year old was let off with a conditional discharge after being ordered to pay $400 compensation.

The singer has expressed her remorse in a statement, insisting, "Following my conviction for assault today, I would like to offer my unreserved apologies to the band's fans, my band mates, our record label and my family. I fully respect the Court's verdict and am pleased that the Judge saw fit to impose only a sentence of conditional discharge."

"Although I was subjected to provocation on the evening in question I do not condone violence under any circumstances and would urge anybody who finds themselves in similar circumstances to show restraint and walk away."

It is not the first time the star has landed in trouble with the law - she was charged with drunk driving last year and handed a 14-month driving ban.