Suffering Dancing Withdrawal? Check Out What You've Been Missing!

What's that? You've spent the last few months watching
Brooke Burke
become champion of
Dancing With The Stars
season 7, and now you have a gaping hole in your Mondays and Tuesdays? Well now might be the perfect chance to turn that dial and see what you've been missing.
The CBS Comedy Monday has been a consistent second place to Dancing over the last several years. The shows are some of the best sitcoms on broadcast TV. Here's a peek into what you can expect.
Monday 8/7c CBS
The Big Bang Theory
is a wonderfully quirky comedy about Cal-Tech research physicists Sheldon and Leonard. The ambitiously chauvinistic Howard and timid Raj complete the group of geeks. The situations these four get into would be premise enough for a good comedy, but add in the blond bombshell Penny (
Kaley Cuoco
) and you get all of the great comedy of social anxiety as well. The Big Bang Theory's writing flawlessly captures the awkwardness of nerds and the hilarious circumstances that those situations can create.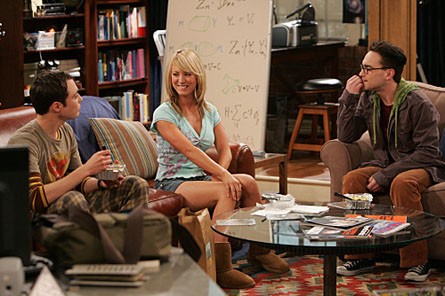 The Big Bang Theory
Monday 8:30/7:30c CBS
Creators Carter Bays and Craig Thomas had the idea that the sitcom could be more if you just added a little heart, and with
How I Met Your Mother
they brought that dream to life. HIMYM is now in its fourth season and hitting its stride as one of the best shows on television. HIMYM is the story of Ted Mosby's life told through the eyes of an older Ted, voiced by
Bob Saget
. As is true in any good sitcom, the supporting cast on this show is excellent.
Jason Segel
of
Forgetting Sarah Marshall
plays Ted's best friend Marshall (is that a coincidence?),
Alyson Hannigan
of
Buffy
and
American Pie
fame is Marshall's wife Lily, and the one-and-only
Neil Patrick Harris
plays the irrepressible Barney. NPH will surely win a supporting actor Emmy for the role before it's all said and done. In the current storyline, Ted has been recently left at the alter and is now once again searching for his soul mate. I highly recommend that people looking for a good laugh check this one out.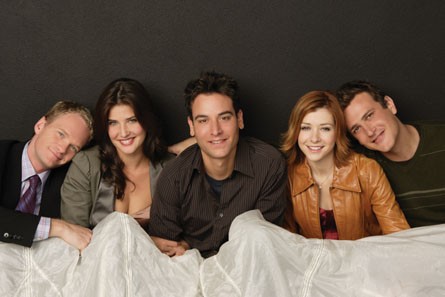 How I Met Your Mother
Monday 9/8c CBS
Two and a Half Men
is TV's longest running and most watched sitcom.
Charlie Sheen
stars as the womanizing Charlie Harper, who is forced to take in his brother Alan and nephew Jake after Alan's wife kicks him to the curb. The show relies on a lot of short scenes, one-liners, and sexual humor. The show is what it is, nothing more, nothing less, and that is what makes it great.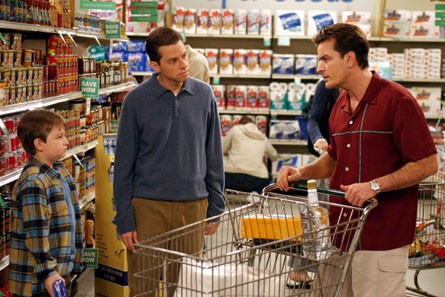 Two and a half Men
NBC has been struggling in the ratings department of late, but its Monday night shows have grown a strong, loyal fan base.
Monday 8/7c NBC
Chuck
was thrown into the fire to compete against the CBS comedy lineup and Dancing, but its successful first season was rewarded with a renewal for this fall. This season has really turned it up a notch, and it has been gaining some well-deserved attention. The main character Chuck mistakenly had the world's greatest spy secrets embedded into his brain after receiving a message from an old college friend who works for the CIA. Now he must use that knowledge to work as a spy with no previous field experience. Show creator Josh Schwartz has really created something special here. I like that the character of Chuck isn't played as a loser. Instead, we actually get to see how he does make a decent spy and can make the stunningly beautiful women on the show fall for him.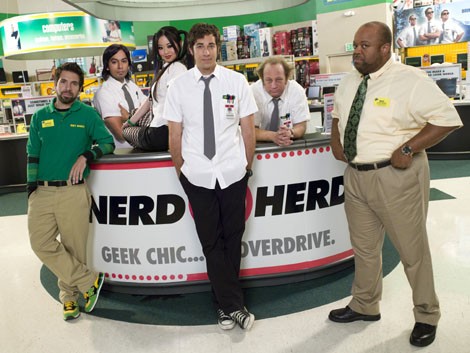 Chuck
Monday 9/8c Heroes
Heroes
was the break-out hit of 2006 and is in its third season. Now may not be the right time to get into Heroes, as ratings have been sliding of late. Many people have grown tired of the plot lines which are often hard to keep up with and exhausted by the inexplicable returns of fallen characters. Still, there is some potential to regain what it once was, and many die-hard fans have faith that the best is yet to come.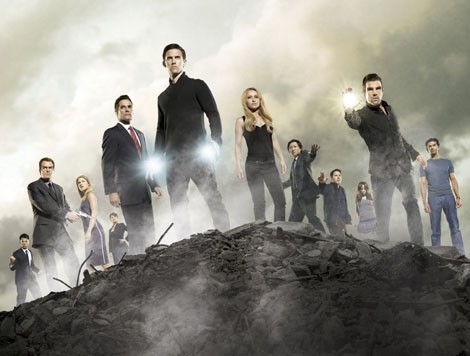 Heroes
Opposite of the results show on Tuesday nights has been two new shows, one of which is this fall's only real breakout hit.
Tuesday 9/8c CBS
As TV's #1 new show,
The Mentalist
has been garnering some huge audiences. Det. Patrick Jane (
Simon Baker
) uses his hyper-observation skills to solve crimes. It's sort of like if Psych were a miscellaneous crime drama instead of a comedy. The chemistry between Baker and his co-stars is really what makes this crime show the best to pop up in some time.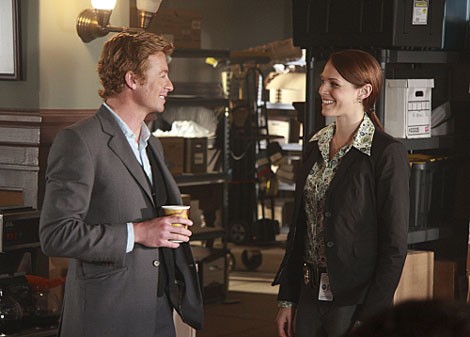 The Mentalist
Tuesday 9/8c FOX
J.J. Abrams
brought the highly anticipated
Fringe
to FOX this fall. J.J Abrams, executive producer of shows such as
Alias
and
Lost
brings us this new sci-fi thriller. With direction by
The West Wing's
Alex Graves, Fringe clearly brings an impressive production team to the table. When dealing with paranormal situations, a team of FBI agents enlist the help of a genius named Dr. Walter Bishop, an expert on "fringe sciences." The only problem is Dr. Bishop has been in a mental institution for many years, and his beautiful mind is teetering on the edge of destruction.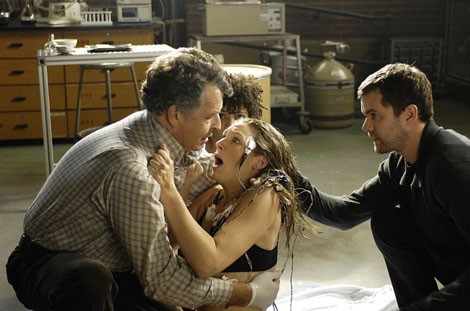 Fringe
So, with Dancing off for a little while, it is the perfect time to check out some of these other great shows. I know it may seem a lifetime away now, but Dancing with the Stars will return on March 17th. Hope they can tide you over until then!
Story by
Kevin Olsta
Starpulse contributing writer