Styx Lawrence Gowan:'We're Pumped Up About The Soundtrack of Summer Tour!'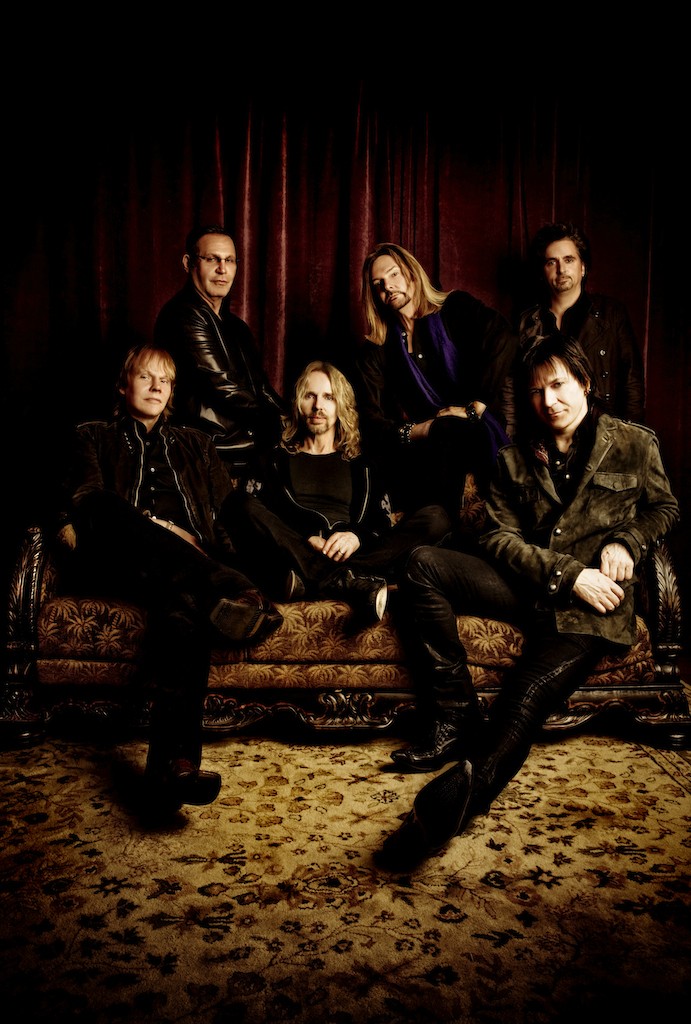 The Soundtrack of Summer Tour featuring, Styx, Foreigner and Don Felder is fast approaching and it's expected to be the ultimate rock and roll extravaganza of the summer season.  The guys are teaming up with the 'Juke Box Heroes' and a former Eagle. They're all long-time friends.
Styx's current lineup features Lawrence Gowan, (keyboards, vocals), Tommy Shaw (lead guitar, vocals), James 'JY' Young (vocals, guitar) Todd Sucherman, (drums), Ricky Phillips, (bass) and occasionally their old friend and original bassist, Chuck Panozzo.
Styx's own lead-vocalist-keyboardist Lawrence Gowan spoke to me by phone from South Bend, Indiana where the band was rehearsing. 
"We're so pumped up about the tour, we actually did a preliminary announcement of the tour a few weeks ago and just getting together with those guys and jamming with a few of our songs it got us all excited and we know it's going to be such a great evening of entertainment for everyone because we love all these songs too," explains Lawrence. 
Lawrence joined Styx as a solo artist in his native Canada. He still has projects outside of the band but is currently on hiatus from it due to being a band member in Styx. 
"I let it go on hiatus for the first 11 years but in the last four years I revived the 'live' side of things. In Canada, I used to get very heavy airplay and there's a lot of interest in the fact that I've joined Styx that I'm grateful for and the time has come to get together with Styx. I only do three or four of my solo shows now a year they're fun events as well." 
At the present moment there is no new album out for Styx. 
"We put out a live DVD of 'The Grand Illusion-Pieces of Eight' album. Our schedule is incredibly heavy; we're really happy about that" Gowan expressed. "We played 110 shows last year and possibly 125 or so this year. There just seems to be the sensational demand to see the band and we're happy to try to meet that demand and there's such a wealth of material to play live that we don't feel the same amount of pressure to get into the studio and start recording our new stuff but we love jamming on it and putting tiny little snippets into the show here and there but right now we're focused on the next 100 shows that we have to play."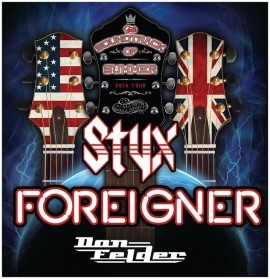 Lawrence enjoys playing to audiences every night with Styx. He's a real showman on stage with his famous "spinning" keyboard with the Styx logo on it. How does he keep his performance fresh every night? 
"Good question, I find that it's not a difficult task I truly enjoy myself on stage and enjoy what the audience brings to the show I want to make sure that they get their money's worth! I always liked acts that are physically committed on stage I love Mick Jagger, Freddie Mercury and Elton John, they're all very physical on stage and I can't keep that bottled up." 
He tells the story behind the famous "spinning" Styx keyboard. 
"The inspiration for the 'spinning' keyboard was I did a video in 1990 with myself and Alex Lifeson (Rush) we had a storyboard where Alex would step out of this 'burning' barn and he's ripping into this solo act and I'm so boring behind this piano so it was during that video that I said, "How about if the piano could spin around?" That was 24 years ago now and I've had it on stage with me ever since. So when I joined Styx which was 15 years ago I wasn't using it at the time so the guys asked, "Where's that spinning piano?"And I said, "Well, if you want to use it I do have it here!" And it's been in every show since!"  
When Lawrence joined Styx, they did not want a replica of original lead singer, Dennis De Young who has since left the band. 
"One of the nice things when I joined the band was they felt that it was a better way to honor the past not to sound or mimic someone in any way that's not how they wanted to proceed forward. They saw me perform with them because I did a couple of shows with them in Montreal and Quebec City in 1997 and they liked the way I sang the songs and I gave a sincere performance and that's the way I joined the band." He continues, "The very first song we played together was from my solo career called, "The Criminal Mind" and Tommy and JY said, "Let's make that a Styx song" so they want to embrace what I can bring from my solo career not try to mimic anything from the past but instead you pull it into the future and that's been our mission and so far we've been successful at it." 
Even though Styx has learned the other acts songs, it's not guaranteed that they will in fact play each other's tunes every night. 
"We got together six weeks ago and we are up to speed on a couple of the other guys songs so it's not inconceivable that giving the right on given night that we could make appearances on the other guys stage we have learned a few of their songs, but I never want to make a definite promise every night that we'll play them because it's a tough thing to navigate but if we can do it like we did with Reo Speedwagon it's possible." 
Styx has been working tirelessly rehearsing for their exciting upcoming tour which is really building momentum. 
"We have been working really hard rehearsing in Champagne, Ill and in South Bend, IN which are places we won't be able to hit on the tour but our set list is extremely extended!" There's a lot of options of what we're going to have on the tour because with those two other acts we're going to have to be on top of our game and I'm not being modest by saying they're going to have to be on top of their game too!" He laughs. 
Follow Styx here: