Style Watch: Olivia Wilde Shows Her Love For Springsteen At 'Drinking Buddies' Premiere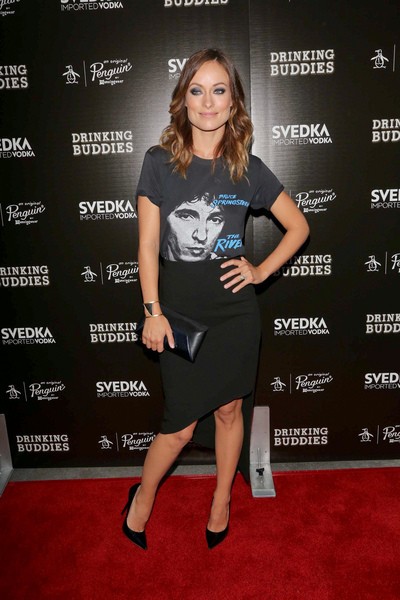 Fangirl Olivia Wilde showed off her rocker side at the "Drinking Buddies" Los Angeles premiere on Thursday. The actress wore a vintage style Bruce Springsteen t-shirt from his 1980 album "The River."
She paired the top with an asymmetrical skirt and black pumps.
The actress was so pumped about the event, she tweeted: "Heading to Drinking Buddies premiere and so f---ing excited. Can't stop smiling. http://t.co/42Z0BYDjcW."
Wilde attended the premiere with her fiance Jason Sudeikis. The actor recent told Maxim about his bride to be: "You know, being beautiful is actually only like fifth or sixth of the things that are amazing about her. She's really hilarious. And she loves basketball! I think people look at us and wonder what kind of information I have on her to get so lucky. Like, I must have video of her taking a bomb into the White House."
Wilde's new film centers on two coworkers who work at a brewery and have one of those friendships that feels like it could be something more. But they are both dating other people. Then one weekend Luke and Kate unexpectedly find themselves alone together...
Check out more photos of Olivia from the premiere...