Study In Scarlett: Get To Know 'Mad Men's' Sadie Alexandru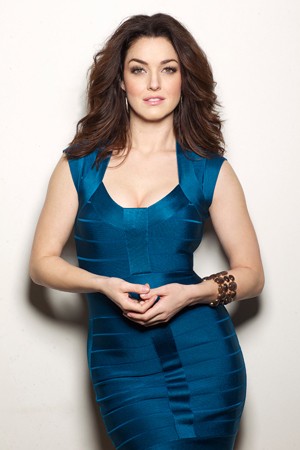 Who was that new secretary in the boardroom this season on Mad Men? That's actress Sadie Alexandru as Scarlett on the critically acclaimed AMC series. Before tonight's season finale, I took the opportunity to get to know her a little better.
Although she's sworn to secrecy when it comes to what you'll see tonight, "It was beyond cool," she said of the experience. "I couldn't be more thrilled. At this point in my life, it really was my dream job. I've been a fan of the show since the beginning.
"I had many people over the years tell me, "You know, you look like you could be on Mad Men." When it actually happened, I went, "Really?" I couldn't believe it. It's full of incredibly talented, super-cool people."
Was it surreal stepping into a show that she admires? "It was, especially sitting at the partners' meeting," she told me. "That was a bit surreal because I love each and every one of those actors so deeply, and each and every one of those characters so much. I felt a little removed walking into the room.
"But as soon as I sat down, I really felt like I belonged. A switch went on."
"It's been really difficult," she said of the show's well-known policy to keep everything under wraps. "I couldn't tell anyone that I was on the show. With last week's episode, I knew this entire time that Lane was going to exit the show in the manner that he did, which was heartbreaking, and that was a really tough secret to keep, but I did not tell a soul."
Yet there's much more to know about her than just her Mad Men role. Sadie attended the acting conservatory at Rutgers University, after doing commercial work in her youth and joining her high school theater program on the advice of one of her teachers. "I felt so much more comfortable in the theater," she told me.
There was no lightbulb moment for her when it came to her career choice: "I feel like I was born wanting to do it."
What does she look for in a role? "I like characters who experience a large span of growth within the storyline," she said. "To me, that's the most interesting because it's almost like you get to play two different characters in one. I really love approaching a character with a lot of growth. I love the Joan of Arcs of the world, the valiant, honorable leading lady who breaks the mold and pushes through all the obstacles. That's the type of person I hope to play at some point in my career.
"The other type of role that I get quite often is the trainwreck," she added. "I was the lead in a play called Love Sucks last year, and we got quite a few Ovation nods, and my character Josie was really all over the place. I'd be hysterically crying one minute and be hysterically laughing in another. I've done a lot of that."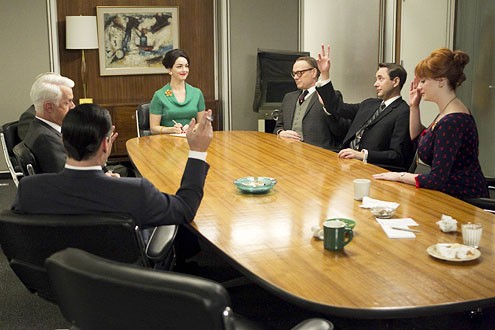 While waiting to see if she'll return in the sixth season of Mad Men, Sadie has other projects in the works. "I'm going to be working in the indie feature world," she explained. "I co-produced a feature that I am also in called Act Naturally, that is in the United Film Festival right now. It's about two estranged sisters who inherit a nudist resort. I don't have too huge a part in it and I'm proud of the project."
She's also developing other ideas, including two with that film's director that she's hoping to co-write, and a life story she'd like to portray that she's currently researching. "I'm a lifer, so I'd like to be working in front of the camera and behind the camera," she told me. "I had my first foray as a producer [with Act Naturally] and I don't intend on stopping."
The Mad Men season finale airs tonight at 10 PM ET/PT on AMC.
You can find out more about Sadie by visiting her official website and following her on Twitter (@SadieAlexandru). For more from Brittany Frederick, visit my Starpulse writer page and follow me on Twitter (@tvbrittanyf).
(c)2012 Brittany Frederick/Digital Airwaves. Appears at Starpulse with permission. All rights reserved. No reproduction permitted.