String For Sting: Lady Gaga Wore A Stringy Dress To Sting's 60th Birthday Party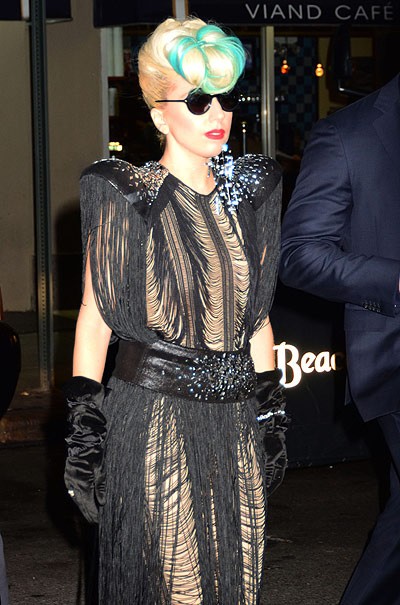 Saturday night a host of stars including Lady Gaga, Billy Joel, Stevie Wonder and Bruce Springsteen took to the stage in New York to honor Sting on the eve of his 60th birthday.

The Police star celebrated with a lavish birthday concert in the Big Apple in aid of local charity the Robin Hood Foundation.

The gig at New York City's Beacon Theater included performances from Joel and Wonder, as well as actor Robert Downey Jr., will.i.am and Mary J. Blige, while Sting appeared on stage with Gaga to duet on "King of Pain," and he also sang The Police's hit "Can't Stand Losing You" with Springsteen.

The highlight of the night came at the end of the show when all the artists gathered onstage with Sting to perform "Every Breath You Take."

Famous faces in the audience included Tom Hanks and Rita Wilson, Jake Gyllenhaal, Darren Aronofsky and Melanie Griffith, while Sting and his wife Trudie Styler also invited 32 members of Britain's Royal Scots Dragoon Guards, who have all completed missions in Afghanistan.

The evening raised more than $3.7 million for charity.
She also managed a second outfit...