'Strike Back': Preview Tonight's All-New 'Episode 29'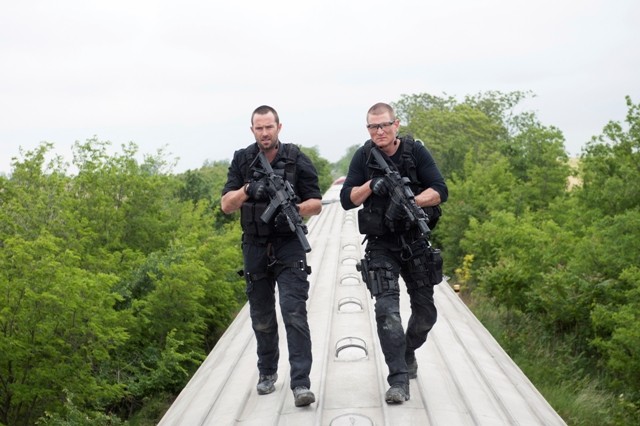 We're getting down to the wire on Strike Back. With just two episodes left, the men and women of Section 20 are hot on the trail of terrorists - and this week's installment features the bang-up action sequence on a train that we've been telling you to watch out for all season.
Tonight, while Scott (Sullivan Stapleton) and a still-recovering Stonebridge (Philip Winchester) are determined to protect Ester, it's up to Richmond (Michelle Lukes) and Martinez (Milauna Jackson) to trail a key terrorist associate in hopes of gaining valuable intelligence.
But a big concern is whether or not Stonebridge is up to the task, because as is pointed out in this very tense BFTV exclusive clip, he's still got some serious issues.
And when we get to the train, it might be one of the best sequences in Strike Back history. Cinemax has shared with us a behind-the-scenes peek at this impressive undertaking, which you can check out below.
Here's what Philip Winchester had to say about it: "It was really intense, but we are all thrilled about how amazing it looks on screen.  It took us four days total to shoot the whole train and helicopter sequence — which is short by film industry standards.  Similar sequences take feature films about four to six weeks to shoot.
"We trained and prepped for each stunt because of its difficulty. First, we rehearsed the train and helicopter choreography.  Since they had to run at the same speed, it was quite tricky. Next we rehearsed when the train was stationery so we get a feel of where we could climb and where we could not.  We also had to test our shoes in wet and dry conditions — it rained on one of the rehearsal days and the top of the train became an ice skating rink.
"Then we rehearsed with the train and helicopter going 25 kilometers per hour, then at 40 kilometers per hour, then at 60. In total we prepped for one full day for the entire crazy thing.  My best piece of advice was: 'Don't fall off.' It was fun to shoot it, and really challenging."
Here's an additional preview clip from tonight's 'Episode 29':
Next Friday is the season finale for Strike Back, but fans don't need to be disappointed. Immediately following the end of Season 3, Cinemax will be airing the original UK season of the show, under the title Strike Back: Origins.
An all-new Strike Back airs tonight at 10 PM ET/PT on Cinemax.
(c)2013 Brittany Frederick. Appears at Starpulse with permission. All rights reserved. No reproduction permitted. Visit my official website and follow me on Twitter at @tvbrittanyf.