'Strike Back': Milauna Jackson Talks Joining Section 20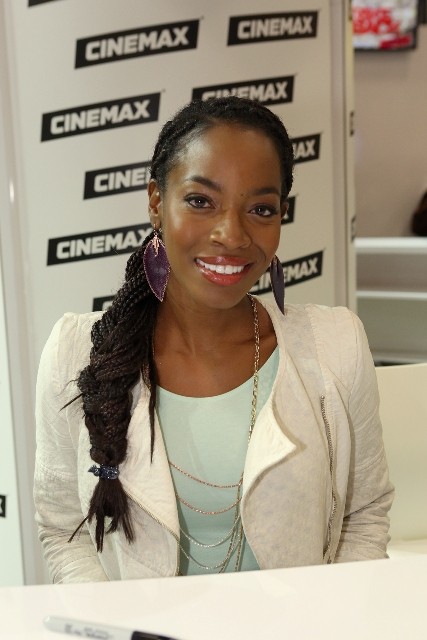 Milauna Jackson is reporting for duty, and she's got a heck of an assignment! The actress joins the new season of Cinemax's Strike Back as a DEA agent who joins forces with the elite military unit known as Section 20, putting her on the front lines with series stars Philip Winchester and Sullivan Stapleton. BFTV met Milauna during July's San Diego Comic-Con, and asked her what she could divulge about signing on for one of TV's relatively undiscovered gems.
"You have to jump in head first," said Milauna, who called the experience "completely different" from her previous TV appearances on shows including NCIS, Dexter, and Lincoln Heights. "You can't tinker. You can't approach it cautiously. Because the show is an adrenaline high. It is a moment for you to utilize all the experience that you had growing up. If it's martial arts or if it's athletics. You have to kind of apply that toward this kind of job.
"I didn't play a lot of sports growing up, but I was on the track team, and I did some dance, [and] I also did martial arts. I relied on that heavily and that kind of motivated me [into] being more encouraged as opposed to intimidated. Because it's an intimidating show. You're talking real stunts. We have these amazing things coming up. To be able to do it, and be able to get the allowance to do it, was truly inspirational for me."
She was also inspired by the veterans that she came in contact with as a result of taking the role. "A lot of times when you take on a project, you're not really sure how it'll impact your life," she continued. "It's impacted me in a way personally. I've gotten a chance to meet people who are affected by war. They may physically come home, they may physically look as if they've survived, but there are still things that they may need assistance with. We're doing this on TV and it's fun and it's great; however, I never thought that I'd walk away [with] people saying, 'I'm so glad that you were on camera representing for the ladies, and you're strong, and you're smart, and you're doing things that I hardly ever get to see on television.'"
So who is this woman coming into Section 20 and holding her own with Scott and Stapleton? How will she affect the dynamic on an already well-cast series? "What you can expect from me, without giving away too much, is revealing a lot more of the other characters' personalities and their backstory. kind of intertwining some of the things that make the characters who they are," Milauna explained. "You'll get a chance to see relationships, chemistry, bonding outside of just the two guys. There's a camaraderie with the whole entire team."
Strike Back director, writer and co-executive producer Michael J. Bassett told us that the show really "pushed" Milauna when she came aboard, and that's a sentiment she agreed with. "Towards the end of the season, there's a major stunt," she revealed. "It wasn't that I didn t want to do it, it was [that] I had a slight fear of heights. I thought, I can't allow my fears to stand in the way of the objective. The objective is to be someone who actually is trained. They're real people. Real women. I got a chance to meet some women who were active in the service and to see them and hear them talk about what their experience is like. That's who i'm kind of representing. a minority group that doesn't really get the exposure on television. So seeing these stunts, I was like, 'There are women who do this for a living.'"
And by the final two episodes of the season, you'll see Milauna really have come into her own amongst the talented ensemble of the Cinemax series. "The last block is probably the one I will say I was the most proud of," she continued, "and it was probably because at that moment, I had acquired so much knowledge, and I was so much further along in the training that you could see me incorporating nuances I didn't have at the beginning. You'll see the journey of my character from where I've come [from]."
Yet powerful women are often among the characters who don't last the season on Strike Back. Though Milauna couldn't comment on her character's fate, she did talk about what it's like to work in perpetual concern that you might be killed off. "The director and co-producer told me from day one, if you remember there's always a lingering bullet with your name on it, that will keep the level of intensity you need to have," she confided. "Because actually in battle, that's true. You never know if it's going to be your last day. So that's always been the mantra in my head - there's always a lingering bullet. Know that you're essential to this team, as of today. Tomorrow, maybe not, but as of today, they need you!"
Strike Back returns to Cinemax on Friday, August 9. Cinemax season two is also available on DVD and Blu-Ray today; you can click here to get your copy. And stay tuned all this week for more interviews behind the scenes of Strike Back leading up to Friday's explosive premiere!
(c)2013 Brittany Frederick. Appears at Starpulse with permission. All rights reserved. No reproduction permitted. Visit my official website and follow me on Twitter at @tvbrittanyf.