'Strike Back': Director Michael J. Bassett Talks Making TV's Best Action Series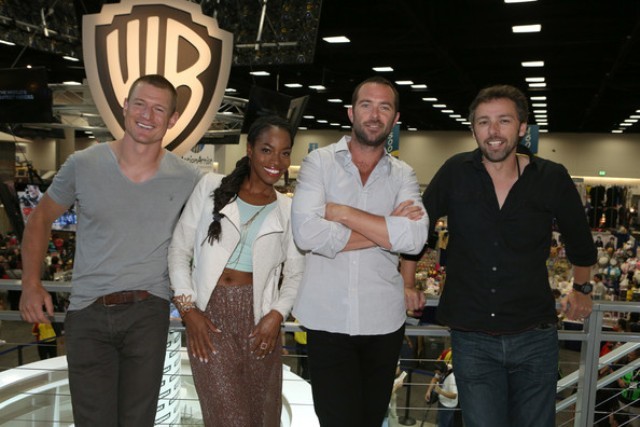 Get ready for more amazing action as Cinemax's Strike Back kicks off its third US season on Friday, August 9. Director, producer and writer Michael J. Bassett let BFTV in on a few secrets from Section 20 during this year's San Diego Comic-Con.
After guest directing last season, Michael - pictured above right with stars Philip Winchester, Milauna Jackson and Sullivan Stapleton - is now the man in charge behind the cameras of Strike Back, which focuses on the worldwide, terror-busting exploits of elite soldiers Michael Stonebridge (Winchester, Fringe) and Damian Scott (Stapleton, the upcoming 300: Rise of an Empire). It's a show that's white-knuckle, screaming-at-your-TV exciting.
And according to Michael, it's going to get even better.
"We've pushed the action into a place that you wouldn't imagine this year," he revealed. "We've got a great storyline with a really complex little narrative in the middle of it which you've got to watch and pay attention to. You take a lesson from Homeland; you say 'Okay, people want these complex narratives.' Strike Back is an action-adventure show and people love it for that, but there's no reason why we shouldn't give them an interestingly complex story to follow as well. So we tried to do that."
He also praised the show's outstanding cast, who don't let the amount of action keep them from delivering real human drama. This isn't just a shoot 'em up, blow it up series - there's acting here that deserves critical acclaim. "Phil and Sully have stepped up in terms of their performances, I think a lot," Michael continued. "We've brought some new cast members in. We've got Milauna Jackson; she's a new female member of the team, plays a DEA agent who joins them, and we push her. She was like so surprised when she joined the show. it was like 'You do this?' 'Yep. We do all this. Get ready.'
"Robson Green comes in and he's part of the new authority in the crew, who runs the boys. That brought a really nice vibe to the unit as well. We've preserved all the humor - and we did push the intensity."
Michael is best known for his ambitious work in feature films, having directed The Following's James Purefoy in Solomon Kane, and also having helmed Silent Hill: Revelation 3D. How does Strike Back compare to making a movie? "There's no difference at all," he told us.  "I'll tell you what I realized: I have more fun making this than doing any movie I've ever done. Stepping onto the set of Strike Back, it's really hard work. You're exhausted all the time. [But] I get to blow stuff up. and have beautiful women on the set, and the boys are great fun. We're firing weapons and we're telling an adventure story. It doesn't get any better than that!"
The show has some of the best visuals ever seen on the small screen, but those aren't easy to accomplish. It takes not only the talent of a director, but the hard work of an extensive crew, who are willing to take huge risks to get the perfect shot or sequence. Explained Michael, "Strike Back takes place in a lot of exotic locations. This year, we start in South Africa, and South African crews are just like you wouldn't believe in terms of what they will try and do for you. The opening of this season, we're not in South Africa in the story, we're in Colombia in the story. so we went to the jungles on the east coast of Africa. We have riverboat chases, we have fights in kind of drug lords' mansions, all in the jungles.
"We get the stunt team, and we say 'I've got this location, what can we do that's going to really, really push it? How can we make the boys, in the middle of this action, be safe but how can it be amazingly dangerous at the same time?' That's the line you're trying to walk [with] our stunt team, along with Phil and Sully, who genuinely do about 95 percent of their own stunts. I use stunt guys to double for them very, very rarely because the boys are capable of everything.
"We have a stunt team that will come and say, 'Yeah, you can do this crazy stuff.' I have camera operators who will put a camera anywhere. They will hang on in the middle of a firefight. I've got so many photographs of camera operators, [and the] director of photography as well, who normally would just be sitting in a chair with me going 'Yes, this is very good,' he's got a camera on his shoulder, he's covered in safety [gear], with Plexiglass panels to stop bullet casings hitting him, and he's this close.
"I say to the camera guys, I want to be in the action with the boys. That's what makes the show unique. To do that, you've got to go to places you wouldn't ordinarily go. I'm going to dunk you in the water under a sunken boat. I'm going to put you in a flaming vehicle. Let's do all these things. And they all go 'Yeah, sure, boss.'" So next time you see a breathtaking moment on Strike Back, take a moment to thank the truly brave crew that made it possible!
Their hard work has been paying off in spades ever since it hit the airwaves. Strike Back has established itself as one of the best action series on television since (and possibly even rivaling) 24, so the new season will undoubtedly have some ambitious happenings to look forward to. We asked Michael if he could name one that he's particularly proud of, and it's a whopper.
"I've just come from doing the climax, episodes nine and ten. We do a sequence on a train," he told me. "Basically there's a 30-minute action sequence at the end of episode nine. It kicks off and for the next 30 minutes it doesn't stop going. So you should just watch that through.
"I throw down the gauntlet to every other television show," he declared. "I say nobody does as much action as we do."
Strike Back returns to Cinemax on Friday, August 9. Cinemax season two comes out on DVD and Blu-Ray today; you can click here to find your copy. And stay tuned all this week for more interviews behind the scenes of Strike Back leading up to Friday's explosive premiere!
(c)2013 Brittany Frederick. Appears at Starpulse with permission. All rights reserved. No reproduction permitted. Visit my official website and follow me on Twitter at @tvbrittanyf.