'Strike Back': 6 Things Fans Should Watch Before Cinemax Season 4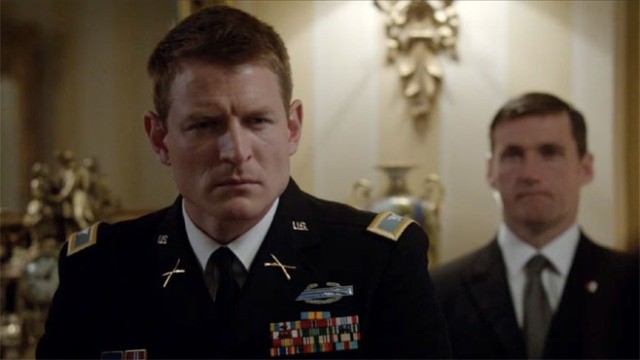 24: Live Another Day - As we mentioned a few times over its run, Philip Winchester turns up in the final three episodes of the recent 24 miniseries (though he's only on screen in the last two; see above). In his role as Colonel Shaw, one of President James Heller's (William Devane) military advisors, Winchester gets mouthfuls of exposition and makes it all sound interesting. As he's played, one just imagines there's a whole backstory for Shaw that we're never going to get to know. 24 certainly isn't Strike Back, but it's the next best thing, with another strong performance from Kiefer Sutherland as Jack Bauer. Plus, you'll find a few other Strike Back regulars hiding along the way: Liam Garrigan (Baxter) goes bad, and Rhashan Stone (Sinclair) cameos as a doctor. Available for streaming on iTunes and Amazon; released on Blu-Ray and DVD in September.
Centre Place - You've probably never put the phrases "Sullivan Stapleton" and "romantic movie" in the same sentence. Well, that happened. Our hero co-starred in this coming of age flick as James, the former love interest of free spirit Julia, and we don't think we're spoiling anything by revealing that they get back together. Their romance is not really the point of this little movie, but it proves how talented an actor Stapleton is, because he handles this light stuff just as well as he does the heavy lifting on Strike Back. A truly versatile performer pulls off the stuff you don't think they should be able to, and that's what Stapleton does here. You'll have a whole new perspective on him as an actor after you see this one. Available for streaming on Amazon Instant Video and DVD.
Camelot - As if Philip Winchester kicking behind in the 17th century wasn't enough, here's Philip Winchester kicking behind in the late 5th century, as Leontes in a show by Michael Hirst (Vikings). You have to feel for the guy, because his wife is cheating on him with future king Arthur (Jamie Campbell Bower), but there's still something awesome about Winchester running around with a sword. Especially when his lines are getting written by the likes of Chris Chibnall (Broadchurch, Law & Order: UK) and Terry Cafolla (Law & Order: UK). Trivia tidbit: also in Camelot was Eva Green, who went on to co-star opposite Sullivan Stapleton in 300: Rise of an Empire. Available for streaming on Amazon Instant Video, Blu-Ray and DVD.
Bonus Round: Solomon Kane - If you really want to look like a Strike Back superfan, check out this film directed by the show's executive producer-director-writer Michael J. Bassett. It happens to be the movie on which he met Philip Winchester, and it was Winchester's idea to have Bassett join Section 20 (for which he ought to be profusely thanked). You'll get to appreciate more of Bassett's epic direction, spot Winchester in a supporting role, and enjoy James Purefoy (The Following and who also turned up in Camelot) riding around as the title vigilante.  Available for streaming on Amazon Instant Video, Blu-Ray and DVD.
Season four of Strike Back hits screens in summer 2015. You can get your first look at the new season here with a fresh new video.
(c)2014 Brittany Frederick. All rights reserved. No reproduction permitted. Visit my official website and follow me on Twitter at @tvbrittanyf.