Sting To Celebrate His 60th Birthday With Charity Concert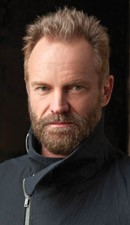 Sting will celebrate his upcoming 60th birthday in style - he's staging a charity concert featuring Bruce Springsteen, Lady Gaga and Stevie Wonder.

The rocker, who turns the milestone on October 2nd, is to mark the date with a charity show, and he's invited his showbiz pals to take to the stage with him in New York.

Mary J. Blige, Black Eyed Peas rapper will.i.am, Rufus Wainwright and Billy Joel are also among the stars set to play the one-off concert, to raise funds for anti-poverty charity the Robin Hood Foundation.

The gig, which also marks the 25th anniversary of Sting's solo career, will take place on October 1st at the Beacon Theater.