Stevie Nicks Pens Song About 9/11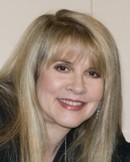 Stevie Nicks wrote one of the songs on her new album shortly after the 9/11 terrorist attacks in New York as an outlet for her shock and grief following the atrocities.

The Fleetwood Mac star is set to release a new record, In Your Dreams, at the end of the month and she has revealed the title track is a tribute to the victims of the 2001 World Trade Center attack in the Big Apple.

Nicks was in New York City shortly after the disaster, and admits the incident affected her so deeply she was moved to write a song.
 
She tells Britain's The Sun, "I got lost in the morning. I was on the road... when 9/11 happened. I stayed in New York that week as we were meant to play three shows and so waited for them to cancel as we weren't going to pull them. But, like everyone else, 9/11 affected me badly. I was upset, but a friend who tours with me calmed me down."

"That's when I wrote the album's title song, In Your Dreams. It was a poem from that discussion where he calmed my nerves about the horrors of 9/11."