Steven Tyler: "I Probably Would Have Been Dead Several Times Over"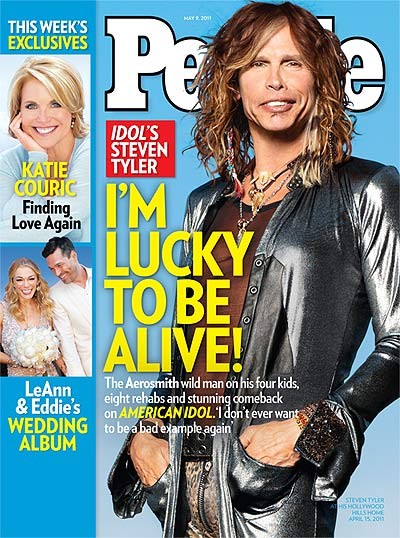 On top of the world again after charming American Idol fans with his warm and wacky ways, Aerosmith rocker Steven Tyler, 63, opens up to PEOPLE magazine in this week's issue about his four kids, eight rehabs, and stunning comeback. What makes Tyler's resurgence all the more triumphant is the rough road he took to get here. "Left up to my own devices," says the singer, "I probably would have been dead several times over."

A rock star with drug problems is nothing new, but Tyler wants everyone to know he wasn't just another junkie. He has had a slew of health problems including a torn ACL in his knee, a broken blood vessel in his throat, a false brain tumor diagnosis, and, worst of all, hepatitis C and the grueling year of treatment he had around 2005. What really could have killed him were the post-surgery pain medications that led him to relapse after varying stints of sobriety (including a stretch of 12 years).

His unpredictable behavior ignited feuds with his bandmates. Amid reports that Aerosmith wanted to replace him in late 2009, he landed in the Betty Ford Center, his eighth stint in rehab. But the damage he had caused didn't hit home until his kids confronted him. "When my son looked me in the eye, crying, and said, 'Dad, you were so high last night, and I was afraid,' I needed that," he tells PEOPLE. "My best thinking got me back into rehab, so I gotta keep my thinking in check and keep going to meetings."

The rocker readily admits that Aerosmith often came before his family. "Every marriage needs to have a reality where the husband spends time with the wife and kids, and I just didn't get time," says Tyler, who divorced Teresa, his wife of 18 years, in 2006. Now he checks in regularly via calls and texts to his four kids. (Chelsea, 22, is an art student and model; Taj, 19, is in college; Liv, 33, is acting and raising son Milo, 6; and Mia, 32, has a clothing line.) "I thought my band was my family," he tells PEOPLE, "but the lesson of the last couple of years was I really need to nurture the family I really got."

He credits his temporary move to Los Angeles, where he lives with his girlfriend of nearly six years, Erin Brady, 39, for his renewed creative energy. "I wake up from thoughts of, 'What can I do today?'" says Tyler. In addition to twice-a-week Idol tapings, 12-step meetings are part of his routine - there's even a sheet of affirmations on his piano. Whether he returns to another season of Idol or not ("I might - if the money's good," he says), he's doing a good job of keeping his life as busy as his mind: He's releasing his first U.S. solo single, "(It) Feels So Good," May 10, working on new music with Aerosmith ("We laugh at our problems," says Tyler, adding that they plan to tour later this year) and penning a song with pal Johnny Depp. He also owns a motorcycle company and frequently shoots videos for his iPhone app, AppSoLewdly. Adds the style maverick: "If I'm going to wear these clothes I collected for the last 40 years, I want my own f------ line."

But his top priority is staying sober. "I'm on Idol now - the last thing I'd want the world to see is me slurring my words," he says. "I don't ever want to be a bad example again." And while he's hotter than he's ever been, the rocker isn't taking anything for granted. "If there's one thing I am today, it's grateful," says Tyler. "I'm happy as a clam!"

*Also In This Week's 'PEOPLE'*

Exclusive Katie Couric Interview: "I Am Really Happy In My Personal Life… But It Is Complicated."
Exclusive Photos - Leann Rimes & Eddie Cibrian's Wedding Album
First Look! Photos Of Robert Pattinson & Kristen Stewart In Breaking Dawn Part 1
Ludacris' Celeb Crush Is Salma Hayek: "I Like Her Lips, Hips And Her Attitude"


Click for more great Aerosmith pictures: