Steven Tyler Calls It Quits: Announces He's Leaving 'American Idol' To Focus On Aerosmith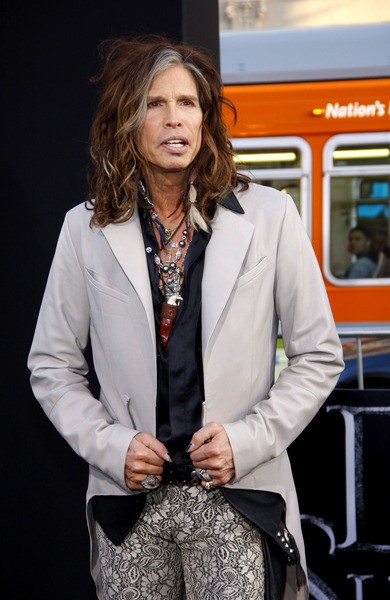 Rock legend Steven Tyler announced Thursday that he won't be returning as a judge for the 12th season of American Idol. The news comes as no surprise after fellow judge Jennifer Lopez all but confirmed that she won't be back either and numerous reports and rumors that producers are looking to revamp the show in order to compete with Simon Cowell's The X Factor.

The Aerosmith frontman released a statement detailing his plans to head back to his band and is ready to rock the world again.

"After some long, hard, thoughts, I've decided it's time for me to let go of my mistress American Idol before she boils my rabbit," the statement reads; "I strayed from my first love, Aerosmith, and I'm back, but instead of begging on my hands and knees, I got two fists in the air and I'm kicking the door open with my band. The next few years are going to be dedicated to kicking some serious ass."

The news came shortly after fellow judge Jennifer Lopez said in an interview for the Today Show that she hadn't made up her mind yet, but is leaning toward leaving herself.
"It's a tough decision either way," she said, "but I have to say there are so many things I do that I put on hold for that. It's a heartbreaking decision if I have to go.

"I love the family that's there... but I am thinking it's time for me to go and do other things I love to do," she added.

Earlier this week stories broke that former Idol runner-up Adam Lambert was in talks to replace either Jennifer or Steven, but then reports speculated that Lambert might be replacing long-time judge Randy Jackson as producers were looking to revamp the show and go with a younger judging panel like that of The X Factor, which now features Britney Spears and Demi Lovato.
Black Eyed Peas will.i.am and Fergie, Miley Cyrus, Nicki Minaj and Katy Perry are currently the few names on producers' shortlist.

As for Aerosmith, the Boston rockers are finishing up their upcoming album (out in November) and planning a world tour.

"Steven Tyler is a real Idol, a rock legend. If you had told me 10 years ago he would be a judge on American Idol, I would have thought it impossible," Idol producer Simon Fuller said of Tyler's decision.

"The fact that this became a reality and we had the pleasure of him gracing our stage for two seasons makes me very proud. I completely understand his desire to get back to his life as the singer in America's greatest-ever rock band. American Idol will miss him."

Who do you think would be best for the new AI judging panel? See our top 10 picks here...