Steven Spielberg & George Lucas Warn And Predict 'Implosion' In Film Industry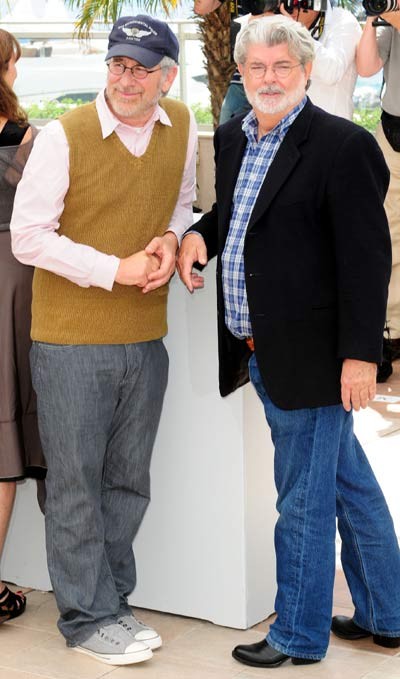 Movie icons Steven Spielberg and George Lucas have predicted and expect an "implosion" and massive change in the film industry.

During festivities to mark the opening of the University of Southern California's Interactive Media Building on Wednesday, both Spielberg and Lucas explained their revelation as well as how the Oscar winning epic Lincoln almost became a TV movie.
The two movie moguls explained to USC students at the ceremony that we are in a time of massive change that could lead to less choices for moviegoers and higher ticket prices - as well as how its becoming more difficult for proven talent to sell movies and get support from executive at major movie studios.

Spielberg revealed how the Oscar winning biopic Lincoln almost ended up a TV movie after being turned away by big-name production firms - because they were only interested in big-budget, mainstream projects.

Commenting on the "much more adventurous" range of projects now appearing on cable TV, Lucas said, "I think eventually the Lincolns will go away and they're going to be on television", prompting Spielberg to interject, "As mine almost was. This close - ask HBO - this close."
 
Lucas continued, "We're talking Lincoln and Red Tails - we barely got them into theaters. You're talking about Steven Spielberg and George Lucas can't get their movie into a theater... The pathway to get into theatres is really getting smaller and smaller."
 
But Spielberg is convinced the current box office domination of costly blockbusters will soon come to an end, paving the way for the return of more niche projects: "There's eventually going to be an implosion - or a big meltdown. There's going to be an implosion where three or four or maybe even a half-dozen megabudget movies are going to go crashing into the ground (flop at the box office), and that's going to change the paradigm."
 
Lucas famously fought with studio executives to get his World War II action-adventure movie Red Tails - about America's first black military pilots, the Tuskegee Airmen - distributed in 2011.
 
Lincoln was eventually distributed by Disney in North America and 20th Century Fox for the rest of the world, and went on to claim two Oscars, including Best Actor for Daniel Day-Lewis' critically-acclaimed performance as the iconic leader.