Steven Seagal Brokered Meeting Between U.S. And Russian Diplomats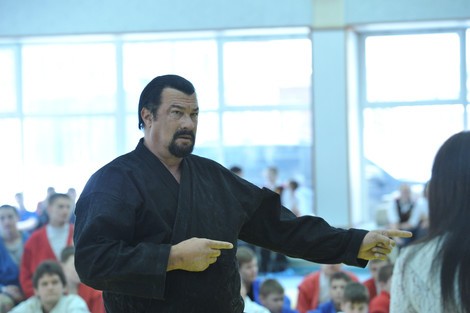 Steven Seagal has been credited with helping to set up an important meeting between U.S. and Russian politicians to aid the investigation into the Boston Marathon bombing.

Republican Representative Dana Rohrabacher, who led the delegation to Russia, reveals he turned to his action star pal for help as the Under Siege actor has been an unlikely pal of Russian President Vladimir Putin for the past 10 years.

The movie tough guy's connections enabled the group of six U.S. politicians to set up a meeting with Deputy Prime Minister Dmitri Rogozin to discuss the suspects involved in the April 15th blast, 19-year-old Dzhokhar Tsarnaev and his 26-year-old brother Tamerlan, who spent six months in southern Russia last year.

Rohrabacher tells ABC News, "We are very appreciative of the help he (Seagal) has given this congressional delegation to make sure we accomplished our mission...

"I don't know if (Rogozin) would have been available to us without Steven actually suggesting that he do that. We are very pleased that he opened up some doors for us so we could have some very high level discussions."

Nevertheless, the California representative admits the meetings did little to shed new light on the investigation into Tamerlan Tsarnaev, who died in a shoot out with Massachusetts police days after the bombing: "There is nothing specific that could've been done that we can point to that, had it been done differently, would've prevent this (attack)."