Steve-O: 'I'm Not Defending Drunk-Driving'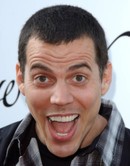 TV prankster Steve-O has spoken out against drunk-driving after it was confirmed his Jackass co-star Ryan Dunn was over the legal alcohol limit at the time of his fatal car crash.

Dunn was killed last month when he lost control of his Porsche while travelling at more than 130 miles per hour. Officials subsequently revealed Dunn had been drinking with friends before the accident and was intoxicated when he stepped behind the wheel.

His devastated cast mate Steve-O, who has long battled alcohol and drug addiction, has now spoken out about the dangers of alcohol following public criticism of the friends who allowed Dunn to drive home drunk.

He tells BBC Radio 5 Live, "If people are upset about drunk-driving, I think there's some validity in that... I'm not going to be wounded or offended by people speaking out against drunk-driving. My only position in this is that I lost a friend, and I'm not defending drunk-driving."

"We were all a very close family, and here we've lost a brother. We've devastated by this."