Steve Martin Saddened By Death Of His Idol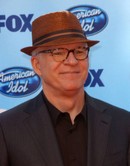 Steve Martin has spoken of his sadness following the death of his comedy idol Wally Boag on Friday.

The Father Of The Bride star has long credited the actor/comedian with inspiring his career and he was devastated when he heard Boag, best known for his role in Disneyland stage show the Golden Horseshoe Revue, had passed away at the age of 91.

Martin first saw Boag's act as a child and is convinced the amusing performance prompted him to seek out a job in comedy.

He has paid tribute to his idol in a post on his Twitter.com page, writing, "My hero, the first comedian I ever saw live, my influence, a man to whom I aspired, has passed on. Wally Boag."