Steve Irwin's Final Documentary, 'Ocean's Deadliest,' To Be Released On DVD June 19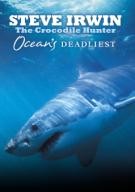 On June 19, EMI America Records will release the late
"Crocodile Hunter"
Steve Irwin's final documentary, "Ocean's Deadliest," on DVD. Steve Irwin is joined by explorer and adventurer Philippe Cousteau, grandson of the famous oceanographer Jacques Cousteau, as they explore the waters of the Great Barrier Reef, the northern Cape York Peninsular, and the Southern Ocean off South Australia.
Cousteau, who was aboard Croc One with Irwin's crew when Irwin was killed by a stingray during an underwater shoot on September 6, 2006, narrates the 66-minute documentary.
For thousands of years, venomous snakes, saltwater crocodiles and giant sharks have patrolled the waters off of Australia. In Ocean's Deadliest, Irwin and Cousteau join many scientific experts who study these creatures as part of their vocation, learning the reason they have evolved with such dangerous defenses and how they fill an important role in the overall ecosystem that is vital to the ocean's survival.
Last September, the international community mourned the loss of animal expert and conservationist Steve Irwin. The world was stunned and the outpouring of condolences was immeasurable. Irwin's impact on conservation efforts worldwide will resonate for years to come.