Steve Carell Does Entire Ellen DeGeneres Interview In Character As Mr. Gru From 'Despicable Me 2'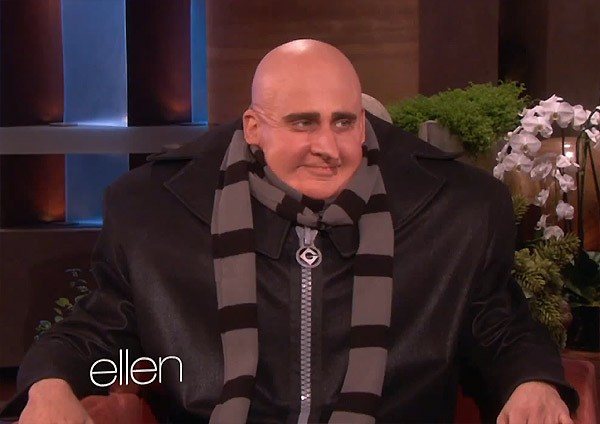 Steve Carell stopped by the Ellen DeGeneres Show on Thursday and did his entire interview in his character Gru from the upcoming Despicable Me 2.

Wearing a bald head wig, a pointy prosthetic nose, an oversized nose and his signature black and grey striped scarf, the evil genius turned good guy said he was excited for his first ever appearance on television.

He also said that although he hadn't met her before his appearance, he did stand behind Ellen once at a Stabucks. He said she ordered a latte.

Ellen quizzed her usually animated guest on where his accent comes from.

"I'm from Albuquerque, New Mexico," Gru revealed. Ellen, attempting to break the star's character, added that she knows plenty of people from Albuquerque and none of them talk like he does.

"Well, that's where I'm from," he added. "Don't push this topic."

The host asked Mr. Gru if the trip to do her show was his first time in California.

"Yes, except for the time in Starbucks!" he exclaimed. "I came all the way here because they don't have good Starbucks in Albuquerque!"

Check out the video below, including some of Gru's classic disco dancing. "Despicable Me 2" hits theaters July 3.