Steve Byrne Reopens The Bar For Second Season Of 'Sullivan & Son'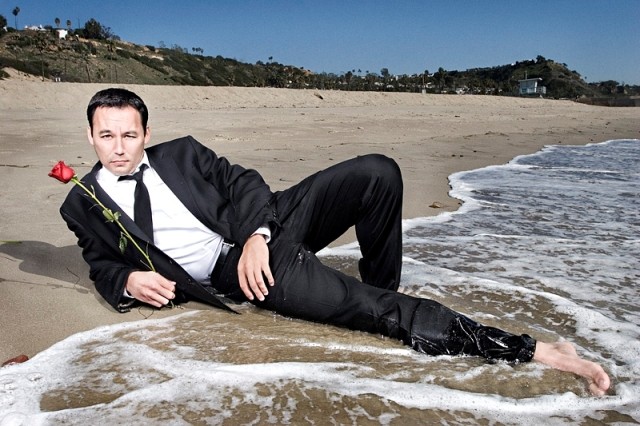 TBS's Sullivan & Son has become a comfortable place to visit for TV audiences on Thursday nights. It's familiar enough for audiences to grasp, is willing to push the envelope enough to feel fresh, and the cast have bent over backwards to make it feel like a real hangout. As the bar comedy serves up its second season, BFTV reconnected with star-producer Steve Byrne between stand-up comedy gigs to ask him how his charming idea for a TV show emerged into the good time it is today.
"I think what makes any show successful is any time it has its own voice and it doesn't sound like anything else," explained the comedian, who stars as Steve Sullivan, the former corporate attorney turned Pittsburgh bar operator. "And I think that we definitely cornered the market, in not being so politically correct and we're not a cartoon. We're actually real people speaking these lines."
Just last July, Steve was entirely new to the business of television, and aiming to make that not uncommon but fairly elusive transition from stand-up comic to TV personality. Flash forward to eleven months later, and he's starting to hone in on what makes his show unique. "The evolution of it all is learning what worked and what didn't work in the first season," he explained. "As the season went on, we found our strengths and weaknesses, and I think (it's) a more defined and streamlined show in the second season."
Some of those strengths that will be back in the second season include "More Carol [Christine Ebersole] and Owen [Owen Benjamin] interactions. I think it's the most uncomfortable mother and son relationship I've ever seen on television," he laughed. "More great one-liners from Ok Cha [Jodi Long] and Hank [Brian Doyle-Murray]."
What's new includes an impressive lineup of guest stars. In tonight's premiere episode, you'll see The Hangover and Community star Ken Jeong playing a drunk Korean. He's joined by another familiar face, Monday Mornings lead Keong Sim, whom Steve particularly praised. "When we needed to cast a bar full of Asian doctors, I immediately thought of Keong," he said. "He's just an awesome guy. One of the nicest guys in the world, too." Later on, you'll see Mike & Molly's Billy Gardell return, and The Big Bang Theory's Kunal Nayyar will also visit the bar.
If Steve has figured out how to make a good TV show, one thing he hasn't yet adjusted to is being the show's star and producer. "Not really," he admitted, displaying the total lack of ego that's helped to make him successful. "I'm used to being a stand-up comic. I'm still giddy about going to work. I hope that never goes away and I don't think it ever will."
While he doesn't necessarily want to be the center of attention, he's most definitely happy that he listened to his longtime friend (and Sullivan & Son executive producer) Vince Vaughn, and took the leap into television. "It's the time of my life," Steve enthused. "It all starts with Vince. He's been so supportive of my career over the years. People ask about his involvement all the time. Each and every episode, he's always chiming in."
He's most proud of "just the fact that we're on the air. I've had so many friends that have had (television) deals," he continued, adding that bringing his show back for season two "the biggest testament to the talent involved, and how hard we work on the show, and how hard we work on promoting it. I'd love to do this as long as I can."