Steve Byrne Aims For An Honest Sitcom With 'Sullivan & Son'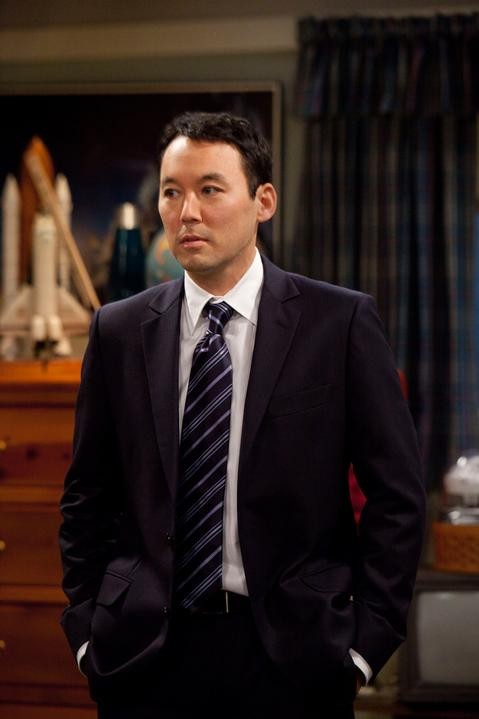 "I think if you're going to sit around and look at graphs and charts, then you're just kind of making a show that isn't genuine," says comedian Steve Byrne. "I think I've learned that from my stand-up. I've always tried to be an inclusive person. It's just speaking from an honest place instead of trying to please everyone."
After fourteen years as a stand-up comedian, Byrne is now looking to bring that same honesty to the situation comedy with Sullivan & Son, the new TBS sitcom that he co-created and stars in, which premieres tonight at 10 PM ET/PT. The show focuses on his eponymous character, a lawyer who impulsively decides to take over the family bar from his father (Dan Lauria) after he reconnects with his old neighborhood. The show also stars Christine Ebersole, Brian Doyle-Murray, Jodi Long, Valerie Azlynn, Vivian Bang and Owen Benjamin.
It's a departure for Byrne, who admits that "It's a much different world. I'm not used to getting up at seven in the morning and having to memorize lines and trying to have some input too. [Also] being a creator and producer, that's so much more responsiblity. There's a lot of investment."
The idea for a sitcom came not from Byrne himself, but from Vince Vaughn, who is credited as an executive producer on Sullivan & Son. "He said, 'Why don't you try to develop a vehicle for yourself?' I wouldn't be here talking to you right now if Vince wasn't such a great friend and so supportive and had this belief in me," explains Byrne. "I'd never done anything like this before.
"It took two years to get this going from the time I wrote it. I just went to a bookstore [and] I bought a bunch of books on sitcom writing, on sitcoms. I wrote kind of my first draft of the pilot, and it actually took place in a diner. But I met [co-creator] Rob Long, and he said 'I think you should switch it from a diner to a bar.' So we made it a bar show and Rob and I worked on a pilot script, and we went out with Vince and [executive producer] Peter [Billingsley] and we sold this thing."
Though the half-hour sitcom may seem the simplest form of small-screen entertainment, Byrne wants you to know that it still takes a lot of effort from a devoted cast and crew to bring it to your television. "It's always a process," he adds. "When you watch a sitcom, you just think these actors are really funny, but in the writers room there are 12 to 14 hour days logged. I always thought stand-up, that's where funny is, but you sit in a room of television writers and I was just kind of blown away. That's part of the process I've really enjoyed."
"What I'm most proud of with the show is the people that we are fortunate enough to work with. Everybody from literally my best friends to our incredible cast, the chemistry's great, everybody gets along. The crew is fantastic. The writing staff is just unbelievable. It's definitely a great set."
He's endeavoring to make Sullivan & Son different from the countless cookie-cutter sitcoms that are scattered across the current television landscape. "I don't think there's anything like it on television right now," he says. "It's finding a group of people that really speak the way that most people do." He's hoping to make a series that "really brings people together."
The Sullivan & Son experience also has a personal stake for Byrne, who counts 1996's Swingers as one of his favorite films, and has now gone on to work with Vaughn, who starred in the film. "I remember being in college and going to see Swingers at a movie theater in Chicago," he explains. "At the time I thought it was the greatest movie I'd ever seen in my life. If you would've told me years later that I'd be friends with somebody I looked up to, I would have said there's no way in hell. He's been nothing but one of my best friends, in my personal life and in my professional life, he's been very encouraging.
"Even if I wasn't friends with him, I'd be a fan of all of his films," he adds. "His comedic timing is so quick and just his improv...being a stand-up comic for fourteen years, I'd say hands-down Vince is the quickest with improvising a line I've ever seen in my life."
As for Byrne himself, though he plans on touring in the future, his time is now devoted to Sullivan & Son. It may be his first TV series but he clearly has a deep appreciation for what it takes to put the show together. This is not a vanity project; he's clearly put in time and hard work, and is grateful for those around him who have done the same to help him realize a goal he hadn't even previously considered. One gets the sense that unlike others, he's not making the series to showcase himself - he just wants to make a good TV series.
Yet like any good stand-up comic, he's still never short of something interesting to say. Asked if there's anything about him he wants people to know, he replies, "People always ask me if my eyes are really green and they really are." Now you know, and now you know Steve Byrne a little better.
Sullivan & Son premieres tonight at 10 PM ET/PT on TBS. For more on Steve Byrne, visit his official website and follow him on Twitter (@SteveByrneLive). For more from Brittany Frederick, follow me on Twitter (@tvbrittanyf).
(c)2012 Brittany Frederick/Digital Airwaves. Appears at Starpulse with permission. All rights reserved. No reproduction permitted.