Steve Aoki To Release Debut Mix Album 'Pillowface & His Airplane Chronicles' Jan. 22

It's irrelevant what you may think of
Steve Aoki
…. Fanatic or foe, what you cannot deny is how instrumental Steve has been in helping define the emerging music and nightlife culture in the US today. By blurring the lines that once separated hoards of indie kids from the urban or electro fans, and divided the VIPS from the not so VIPS, what this man has created under the guise of a DJ/Party enthusiast is a lifestyle and media empire for youth today.
Dim Mak, his LA based record label has signed and released EP's & LP's for a fine feast of bands including
Bloc Party
,
The Mystery Jets
,
Klaxons
,
The Rakes
,
Scanners
,
The Deadly Syndrome
, Icarus Lines, Oh No! Oh My!
The Kills
, Sean Na Na,
Pretty Girls make Graves
, Whitey, Pony Up and Foreign Born to name but a few, helping acts to develop a strong and steady fan base with the MySpace hopping generation in America.
Weird Science is the name both Aoki and production partner Blake Miller from Moving Units work under; remixing tracks and reshaping them for the dance floor. Mixes you've likely heard would be those of
The Teddybears
,
Peaches
, The Rakes, Bloc Party,
Young Love
,
Under The Influence of Giants
and
The Charlatans UK
. Some of the above you will hear on this compilation.
Dim Mak clothing is booming, with a merchandise line already making waves at key boutique stores and its ubiquitous Dino-print hoodie adorning fans and celebrities around the world… It's clear that Steve is on to something big here in the industry. Most importantly, he "gets it" hence why so many are eager to work and collaborate on his many projects.
A cornerstone to Aoki's success has been the ability to bridge the A-list young celebrity world with the indie hipster scene with effortless ease. For instance his now legendary Tuesday night at Cinespace in Hollywood are covered religiously by partner in crime The Cobrasnake and have hosted debut performances from Bloc Party,
Lady Sovereign
,
She Wants Revenge
,
Wolfmother
,
Kaiser Chiefs
,
Editors
, Spankrock,
The Bravery
, Uffie and more.
Punks, freaks, indie snobs, fashionistas and black Amex-carrying NY/Hollywood "royalty" have all found homes at Aoki's events and major publications such as
GQ, Vanity Fair, People, Complex, The LA Times, LA Weekly, BPM, Paper and Flaunt
have already favorably reported on the scene and alcohol fueled debauchery that often goes hand in hand when the above are involved!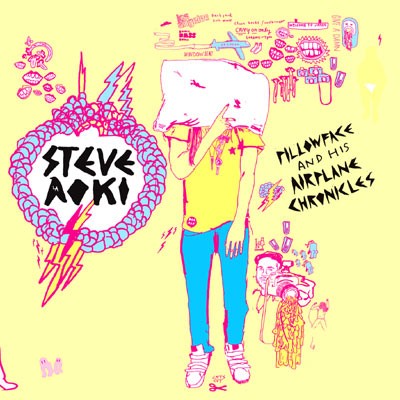 And what of the music? In a nutshell,
Pillowface & His Airplane Chronicles
is a mix album that captures the current wave of electro and Nu Rave sounds that in spirit and attitude have bridged the gap between punk and electro. It's interesting to note that this emerging sound has not drawn its biggest fanfare from the traditional dance club audience; rather it's a new wave of young, fashionable, indie-leaning music fans that are eating up these tunes. And if you've been to a night like Aoki's Cinespace Tuesdays as of late, you know how energetic, exciting and debaucherous this scene is getting. The lack of punk attitude that has plagued electronic music over the last 15 years has now finally been injected, and it's DJs like Steve Aoki that are leading the way.
All the big players in this budding movement are represented on
Pillowface…
, from the heavily distorted disco of France's recent heroes
Justice
, to the raved up Soulwax remix of the
Klaxons
, to the first ever US appearance of Does It Offend You, Yeah?'s UK phenom (and appropriately titled), "We Are Rockstars." Aoki contributes with the Weird Science remixes of Peaches and Bloc Party, and hidden gems from Goose and Yelle also make the cut. And just when you thought this was going to be just another mix CD, the vocals kick in… With help from his expansive rolodex of creative types whom he counts as amigos, Aoki was able to assemble an impressive list of guest vocals which are layered expertly over the mix. Todd Fink from the Faint, Steve Bays from
Hot Hot Heat
, Mickey Avalon, Kid Sister and host of other uber-hip mic fiends all lend a hand to
Pillowface…
, making this album a true family affair. Just who says what, over what tracks and when? You'll have to hear it to be privy to this unique collaboration, folks!
'Pillowface & His Airplane Chronicles' track listing:
1. Refused- New Noise
2. Justice- Waters Of Nazereth (Erol Alkan's Durrr Durrr Durrrrrr Re-Edit) w/ Pase Rock's Guest Drop
3. Does It Offend You, Yeah?- We Are Rockstars w/ Spank Rock & Amanda Blank's Guest Drop
4. Services- Element Of Danger (MSTRKRFT Remix) w/ Har Mar Superstar's Guest Drop
5. Goose- Bring it On w/ Todd Fink's Guest Drop
6. Larry Tee & Princess Superstar- Licky (Work it Out) [Herve Goes Low Remix] w/ Santogold's Guest Drop
7. Green Velvet- Shake and Pop w/ Kid Sister's Guest Drop
8. Klaxons- Gravity's Rainbo (Soulwax Remix)
9. The Mystery Jets- The Boy Who Ran Away (Riton Re-Dub)
10. Peaches- Boys Wanna Be Her (Weird Science Remix)
11. Datarock- Fa-Fa-Fa w/ Steve Bays' Guest Drop
12. Yelle- Je Veux Te Voir
13. Franz Ferdinand- Do You Want To (Erol Alkan's Glam Racket Remix)
14. KIM- Wet 'N Wild w/ Mickey Avalon's Guest Drop
15. Bloc Party- Helicopter (Weird Science Remix feat. Peaches)
16. Justice- D.A.N.C.E. (MSTRKRFT Remix)
17. Scanners- Low Life (L.A. Riots' Remix) w/ Uffie's Guest Drop
-
Enter here for your chance to win great autographed Steve Aoki stuff and a Nooka watch!