Stephen Root Talks 'The Men Who Stare At Goats,' George Clooney & '24'

The new
George Clooney
led comedy,
"The Men Who Stare At Goats"
, opens today and it is filled to the brim with a who's who spectacular cast that will make you find yourself scratching your head and saying, 'I cannot believe they're all in this!"
"The Men Who Stare At Goats" has roots in the Cold War; where the United States military tried using psychic abilities to destroy other people. Yes, attempts at learning how to stare people to death actually happened in the most serious of matters. Needless to say, it's funny through and through.
We were lucky enough to speak with
Stephen Root
who is fortunate enough to live out the dream of just about every actor around. He's been on "
King Of The Hill
" for 13 years, did "
NewsRadio
" for five and has a resume that is filled with guest starring roles and arcs on many of the best television shows of the past 20 years; let's not forget, he does film too. He played the now infamous Milton 'Um, you have my red stapler' Waddams in
Office Space
among his many other roles.
Eric Stromsvold: Can you tell us a little bit about your character Gus Lacey?
Stephen Root:
Gus Lacey… Steeped in realism of the time of the early 80s, when they were actually doing psychic military units, they were experimenting with different ways of combat and trying to mentally get their foes down. This particular gentleman was trying to do it by staring at whatever animal you got there, whether it be a goat or a hamster. In the movie it's a hamster for me. Of course this project didn't last real long because it didn't work so well. If we're doing the slow war, I'm probably your guy.
Since it was based on true events, was there someone on set who was a former goat starrer or was involved in the original military project?
No, but our director/producer Grant Heslov actually gave us an hour documentary about the real guys there; real clippings and then staring at stuff and doing things.
And how did you become involved in the film?
I was happily… I worked with George (Clooney) a couple of times. "
O Brother Where Art Thou
" and "
Leatherheads
." He and Grant thought this would be a good thing for me to come out and play. So it was a short little thing. I went out to Puerto Rico for a couple of days to shoot with
Ewan McGregor
which was just a pleasure. He's tremendous.
I've heard that George Clooney is real good at practical jokes on set. I was wondering if he had done one on you.
Oh he's a goofball… George is a goofball. He plays a lot of basketball, he likes to goof on people and do jokes [but] he didn't do anything to me. I enjoyed seeing him in the long haired wig though and a moustache in "The Men Who Stare At Goats". That was pretty funny. But no, he didn't personally do anything to me but he did some stuff with the boys in "Leatherheads."
You've played many enjoyable characters to watch. I was wondering what your favorite or most memorable on-screen role was.
It's hard to say because they're different experiences doing them. Obviously I love the Coen Brothers; so I'm thrilled to be hooked up with them at any time. That's a great experience, but then doing "NewsRadio" for five years was a great experience; working with
Phil Hartman
and the rest of the gang was great. And I've worked for 13 years on "King of the Hill," so it's hard to pick one movie that you do over something that you do for years as time with people, because it's a very family situation.
My favorite "NewsRadio" episode is when Phil and Dave are stuck in the airport.
(Laughs) That's a great one! Nobody ever brings that one up.
I love that one where he just thinks that everyone not from New York is just slow and stupid.
(Laughs)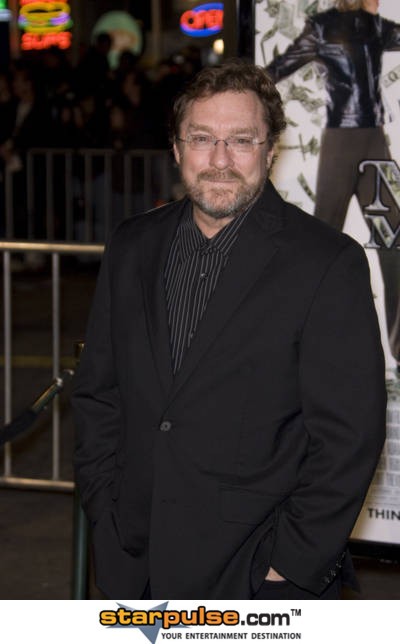 Image © Chris Hatcher / PR Photos
I could watch that one over and over, it's awesome.
Well, Phil was a genius anyway, and I think a lot of credit should be given to Dave for that show because his arc starts out as just this corn fed, bright-eyed guy and by the end of the show his arc was just so downtrodden at the realities of life in New York. I thought he was tremendous.
The whole cast of that show was spectacular on that show. I loved it very much.
Thanks. I did too.
I heard that you have an arc on the upcoming season of "24."
I just finished working on 24. I got to do three episodes on that this year and I'm pretty excited about that. I got to work with
Katee Sackhoff
-- she's one of my favorites.
Who were you playing? Are you playing a good guy or a bad guy or are you allowed to tell?
Umm…nebulous about that. But I am playing an Arkansas corrections officer who shows up at CTU and has dealings with Katee's character but it was a real good, real fun situation.
"The Men Who Stare At Goats" is in theaters today!
Story by
Eric Stromsvold
Starpulse contributing writer