Stephen Moyer Says The 'U.K. Riots Are Quite Interesting'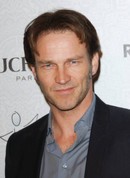 True Blood star Stephen Moyer has risked the wrath of his fellow Brits by confessing he has enjoyed watching news coverage of the "exciting" riots, which have caused chaos across the U.K.

The civil unrest began in London last week and soon spread across the country as thugs attacked city centers, smashing windows, looting shops and setting buildings on fire.

A host of British celebrities, including singer Annie Lennox and comedian Russell Brand, have spoken out to condemn the violence which has caused so much destruction, but Los Angeles-based Moyer, who grew up in Essex, south east England, claims he's reveling in a "bit of anarchy."

He's even turned watching the news into a mini tea party.
During an appearance on Late Night with Jimmy Fallon on Thursday, Moyer said, "It's exciting isn't it? I love it, it's a bit of anarchy! It's like, I get my deckchair out and I sit on the street and make myself a cucumber sandwich and I sit down and I watch (video footage). It's like violent dinner theatre. We're quite a secular, boring bunch in England and I think it's quite interesting to have a bit of a revolution."

And Moyer insists he's captivated by the changing attitudes of the British people over the course of the period of unrest.

He adds, "The first couple of days, everyone's like, 'Yeah, get out there, viva revolution!' and then two days later, they're like, 'It's just wrong, it's really bad.' And then everybody goes, 'Come on, it's like the Second World War. We're going to get out there and we're going to sweep it all up!' It's interesting."

The initial riots in London were sparked by the fatal shooting of a 29-year-old man by police in Tottenham, north London on August 4th