Stephen Moyer, Anna Paquin, And Alexander Skarsgard Discuss 'True Blood' Season 3 In The New EW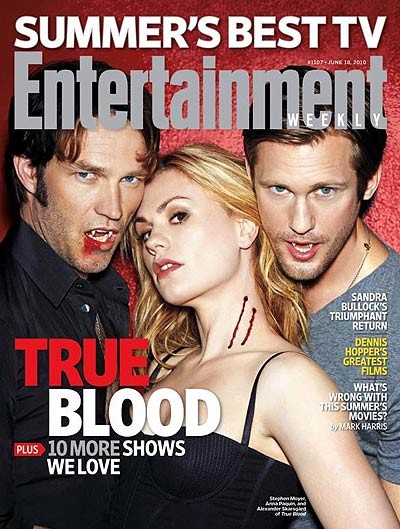 Season three of HBO's gothic drama "True Blood" promises sex, danger, violence, scary werewolves, and even scarier new vampires. One of the most buzzed-about series since "The Sopranos" is premiering on June 13 to some hungry fans. Last summer, the show really began to boil, registering with both critics and audiences: At 4.3 million viewers an episode, it doubled its season 1 ratings. "It was a breakthrough season in terms of feeling like it became part of pop culture," says Michael Lombardo, HBO's head of programming. "It was the sort of show I started hearing people talk about on Mondays."

And like that other big pop-culture-dominating vampire saga ("Twilight"), it's transformed the cast into bona fide celebrities. "It's quite surreal that people want to take a picture of me buying milk," says Alexander Skarsgard, who plays Sookie's (Anna Paquin) frenemy Eric Northam. "I don't really get it."

The new season looks to be even more addictive with the introduction of several new characters, and multiple interconnecting story lines. "If last season's general theme was religion, I would say this season's theme is probably politics - vampire politics," teases creator Alan Ball, who is trying to manage expectations that season 3 will be bigger and better than the previous two. "I feel like if we put that pressure on ourselves, then that's just dangerous," he says. "Ultimately, the goal is to tell the most entertaining, fun, sexy, scary, and romantic story."

One thing is for sure - along the way, we can expect "True Blood" to once again provide an intoxicating blend of gory vampire saga, Southern gothic melodrama, and sex-charged romance. "It bridges a lot of genres," says Sam Trammell (who plays shape-shifting Sam Merlotte). "There are some elements, metaphors of racial politics and gender politics - they're there if you want to look for them, but it's really popcorn, fun entertainment."

And of course there is plenty of nudity. "Having been a fan of the show, you know you're going to be naked at some point," says newcomer Joe Manganiello, who plays a werewolf that accompanies Sookie on her quest to find Bill. "I will say that I was welcomed into the brotherhood of the sock. When you're naked on the show, you have to wear a sock, and it's not on your foot."

Paquin says the graphic love scenes are the least of her concerns. "It doesn't really bother me," she admits. "I'm really close with all of our cast, and we've all seen each other in various compromising and odd situations." The actress is, of course, particularly close with fiancé, Stephen Moyer, and Moyer says their real-life romance definitely adds to their love scenes. Jokes the actor, "I think that one great bonus is we don't need a fluffer."

Read the full story on EW.com!
Click for more great True Blood pictures: