Stephen Colletti Dishes On 'One Tree Hill' And A Televised Youth
After gaining fame as a cast member on the reality series Laguna Beach, Stephen Colletti has segued from MTV to The CW's One Tree Hill. Recently promoted to the main cast this season after four as a recurring character, Stephen sat down with me recently to talk about Chase's future, the prospects for the show's future, and where he himself might head next.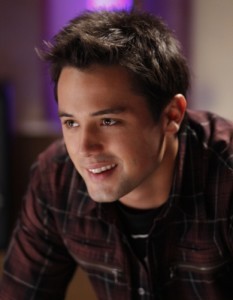 There is only one more episodes left in One Tree Hill's eighth season. What's left in store for Chase?
There's some decisions to be made. We've been teasing them all year. It's going to come to a resolution with the decisions I've made. There's repercussions no matter which way [Chase] goes.
You're contracted for a ninth season. Have you heard anything about the show's chances for next year?
You guys know just as much as I do. I have high hopes for it.

Where would you like to see Chase head if there is a season nine?
That's a good question. It's nice to pop up here and there. You get little tidbits about him. Next year, I'd just like to know that even more. I'd like to see a relationship established as far as having some more depth in it, a little more settling down on his part. They just kind of fizzle.
This is your fifth season playing Chase. Especially with it being your first scripted television role, what has it been like to stick with the character for so long?
I came in the last few episodes of season four and we tried to work out a regular deal. In the sixth season, [creator] Mark Schwahn came back to me with some ideas. It's been a tease for a long time until this year because [I've been] reoccurring. This season I've done a lot more, found more depth.
You were a regular on Laguna Beach at 18. Now you're a regular on One Tree Hill at 25. Having had the same experience at two different points in your life, do you look at it any differently?
They're definitely not the same experience. Trying to not make a fool out of yourself on reality television as an eighteen year old kid is a completely different thing. It's great now because it's so funny to look back and think about it. [It was] hours and hours of footage that MTV would edit down to minutes to create stories. People would kind of change for the camera. I was like, "Why are you doing that?" I have that feeling of just wanting to tell people that's something that MTV has made up.
I'm on another teen drama now but there's a character to play with. There's a storyline laid out. It's much more fun for me.
With you being personally recognizable thanks to your reality TV experience, how has it been to go from that to playing a character? A lot of actors talk about trying to disappear into a role and it seems like that might be hard to do when people have watched your life unfold already.

It hasn't been easy. I haven't even seen every episode of Laguna Beach. It was a different time in my life. That's a different person and I think people understand that. You just have to care about what you're doing. That was a time in my life and this is now.
I'm curious how you got from MTV to The CW. Did you decide to become an actor after your experience with MTV, or was it something you were always interested in doing?
It was something I was interested in [but] it was never anything I took seriously. The opportunity came around and from the first day of shooting Laguna Beach, it was just fun. It took doing Laguna to kind of see that this was something I wanted to do for the rest of my life.

Between Laguna Beach and One Tree Hill, which do you get recognized for more often?
It's definitely split. It goes both ways. I've been on One Tree Hill for five years but a lot of people watched Laguna. It goes right down the middle.
What TV shows do you watch?
I love the NBC comedies. I DVR Parks and Recreation, Community, The Office, 30 Rock. I love most of the HBO shows. I love Archer. Archer's a great show. I'm big on Netflix; I've seen every episode of Freaks and Geeks. We need more shows like that.
My thanks to Stephen Colletti for this interview! Check him out on One Tree Hill, airing Tuesdays at 8 PM ET/PT on The CW.