Stephen Colbert Takes On Rumors In Return From Sudden Hiatus (Video)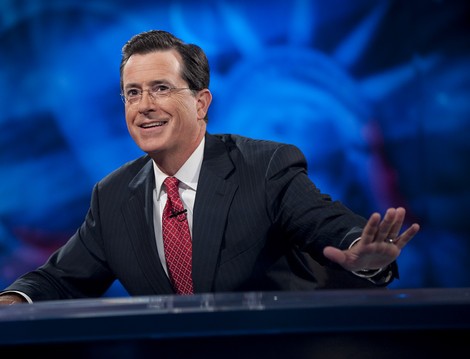 Last week, many TV viewers were confused when they tuned to Comedy Central to watch a new episode of the Colbert Report - only to be shown a repeat. It's the first time since 2005 that Stephen Colbert has taken an unannounced leave of absence. Last night, in his return, he responded to rumors of why he was off the air.
"Some people said that my show was canceled by the Federal Communications Commission at the request of the Federal Election Commission because I was about to announce my presidential candidacy," Colbert mused. "Not gonna happen."
The Colbert Report
Get More: Colbert Report Full Episodes,Political Humor & Satire Blog,Video Archive
He also joked that he may have had plastic surgery, which is what Joan Rivers mentioned last week on a talk show. She had teased that whenever she was off the air she was "resting" and would come back with a new facial feature. After preening himself in a mirror, Coblert denied that accusation as well.
In fact, Colbert did not directly explain why he left - but he made it obvious it had to do with his 91 year-old mother when he said "Evidently, having 11 children makes you tough as nails... Confidential to a lovely lady." Stephen is the youngest of 11 children.
Before his return the comedic pundit tweeted: "My family and I would like to thank everyone who has offered their thoughts and prayers. We are grateful and touched by your concern."