Stephen Colbert Hands Over PAC To Jon Stewart, Forms Presidential Exploratory Commitee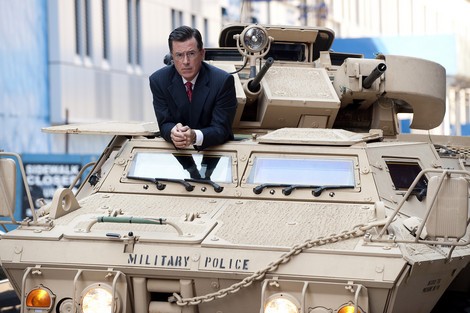 After teasing a big announcement Wednesday night, Stephen Colbert used his time on the Colbert Report to close a loophole that would have kept him from running for President.
Current rules dictate that a candidate cannot also be the head of a Political Action Committee, nor can he or she tell the committee how to spend its money. Thanks to Citizens United, PACs can take infinite amounts of donations from corporations because they are now considered "people "in the eyes of American law, so having a PAC supporting you means big cash as a candidate.
So, Colbert simply transferred his ownership of his PAC to Daily Show host Jon Stewart. It took two signatures on two pieces of paper. Since the two are not allowed to coordinate, Colbert stated that he'll just say what he would want a hypothetical PAC to do on his show - if Stewart were to follow those directions, it wouldn't be called "coordination."
With his PAC out of the way, Colbert declare he's creating "an exploratory committee to lay the groundwork for my possible candidacy for the president of the United States of South Carolina."
Red, white, and blue balloons rained from the sky as he yelled "I'm Doing It!"