Stephanie Seymour's Sexy Photos Continue To Sell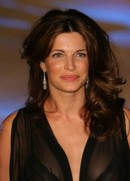 Naked images of model Stephanie Seymour are proving to be big business - a nude print of the beauty is expected to sell for a six-figure sum when it goes under the hammer later this month.

Last October, an explicit modeling shot of Seymour wearing a see-through dress was sold for $46,875, at New York's Sotheby's auction house.
 
A bust by artist Maurizio Cattelan also made big bucks - pulling in a huge $2.4 million earlier this month.

And another sexy painting of Seymour is expected to raise as much as $210,000 when goes for sale at a private auction in Paris, France on November 19th, according to New York Post gossip column Page Six.