Stephanie Seymour Can Still Rock A Bikini At 44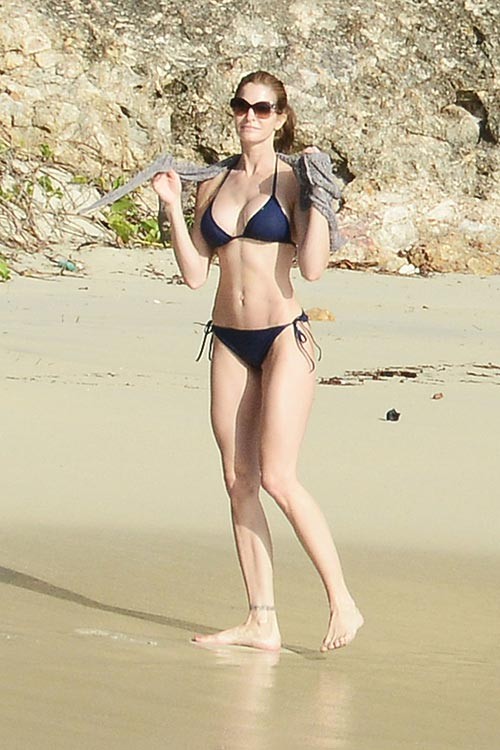 Former Sports Illustrated Swimsuit Issue supermodel Stephanie Seymour spent time vacationing in celebrity Caribbean hotspot St. Bart's last week with her daughter Lily & sons Peter and Harry.

The model, who once posed for Playboy magazine, showed off her sexy curves and proved that at 44 she's still got it.

Two years ago Seymour was photographed on the same beach in an awkward embrace with her son Peter, who appeared to be kissing her on the mouth and holding one of her breasts.

Peter, one of her three children with billionaire publisher Peter Brant, Sr., cleared up the photo later, saying that they had "been taken completely out of context".

"...[M]y mother and I are very close as she is with all her children. She often hugs and kisses me and my siblings in an manner that is intimate, any mother in the world does the same," Brant II explained in a statement. "That day on the beach we walked around with each other completely aware of the presence of photographers there. We have nothing to hide and with that in mind I would like to say that I am openly gay."

Last month Peter met with more controversy when a string of text messages that he and pal Andrew Warren sent to each other was posted to Instagram, revealing their disdain for President Obama's re-election.

"Guess were [sic] poor now," Warren wrote.

"I have a contingency plan -- Kill Obama hahaha," Brant responded.

Brant later issued an apology.

"Obama is now our president and as such I support him," he said. "What Andrew and I said was stupid and I'm sorry to anyone we offended. This is a time when we need to be unified as a country and not let any petty stupid humor get in the way of that."

Warren wasn't quite as gracious with his apology, instead he took to Twitter and wrote, "People seriously need to take a joke, the instagram obviously wasn't serious. Everyone can move on now..."