Stephanie Pratt's Naked PETA 'Be Nice To Bunnies' Ad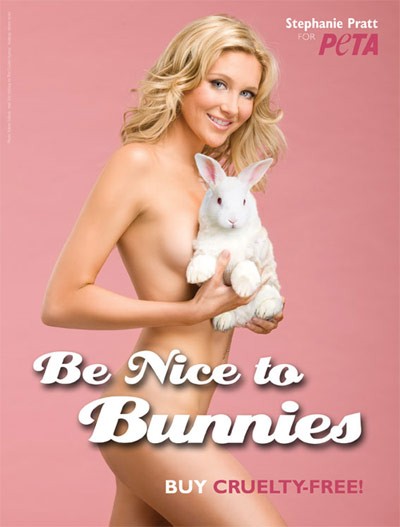 "The Hills" star Stephanie Pratt was happy to bare her buns to save bunnies for the cover of PETA's "Be Nice to Bunnies" cruelty-free shopping application - but that's not the image that iPhone users will be seeing in the app store. Pratt's sexy app cover was deemed too risqué for Apple's iTunes Store. Instead, PETA will use a clothed image of Pratt for the app's cover and launch the sexy version as a print public service announcement on PETA.org.

PETA's iPhone application - designed with the help of innovative marketing company Hot Frog Creative - lists thousands of cruelty-free products and companies. Pratt and PETA are encouraging consumers never to buy personal-care and household products that were smeared into rabbits' eyes or force-fed to mice or guinea pigs.

In addition to posing for both versions of the app cover, Pratt also sat down for an exclusive interview in which she spoke about her motivation for teaming up with PETA. "Guinea pigs and rats and bunnies … [are] blinded, poisoned, and burned for such a useless experiment that's not needed," she says.

Some companies, such as Clorox and Unilever, still test their personal-care and household products on animals despite the availability of more sophisticated methods. No law requires that products be tested on animals, and the results of such testing cannot be reliably applied to humans.

Pratt joins many celebrities-including Eva Mendes, Khloe Kardashian, Joanna Krupa, and Pamela Anderson-who have bared it all to help PETA protect animals. Hot Frog Creative is a new media/marketing agency that was founded on the concept of creating fun, engaging interactive projects for causes and organizations that it supports and believes in-including PETA, which will receive a percentage of the profits from "Be Nice to Bunnies."

For more information, please visit PETA.org.

The 'PG' version for the iPhone App: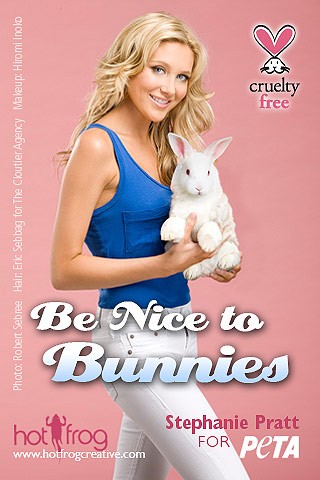 Click the pics to see these other hot celebrity PETA ads:
Click for more great Stephanie Pratt pictures: