Stephanie March & Bobby Flay Show Off Their Gorgeous NY Home In Elle Decor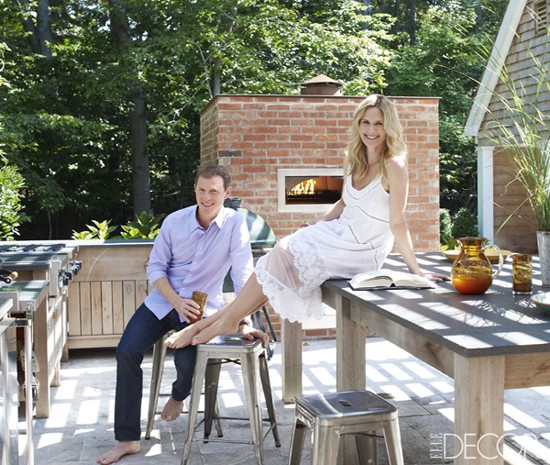 It's no surprise that Bobby Flay and his actress wife Stephanie March have an incredible kitchen - make that two -  in their Amagansett, NY, home. After all, the celebrity chef, restaurateur and TV star is the owner and operator of many swanky hot spots.
The couple shows off their incredible indoor and outdoor spaces in the July/August issue of Elle Decor. The outdoor space includes a stovetop grill, refrigerator, Wood Stone oven and brick wood-burning oven - everything a seasoned BBQ man could want.
The outdoor dining area includes a custom-made teak dining table with teak chairs under a cedar pergola, which is covered in wisteria flowers during the spring.
The couple's indoor kitchen has custom-made blue cabinets, French bistro chairs and a Viking wall-mounted oven. Flay explained, "I love that my kitchen is technically a restaurant."
Last year, the chef gently informed friends that his annual Thanksgiving dinner in the couple's Manhattan apartment was no longer happening. "We had 50 people show up for turkey in Amagansett this past holiday anyway," he noted. "They followed us out here! I prepared two 30-pound turkeys and cooked sides for days. I stand at my kitchen island from the minute I get out here to the minute I leave."
The new issue of Elle Decor hits newstands on July. Read the full story and see more photos of their house HERE!